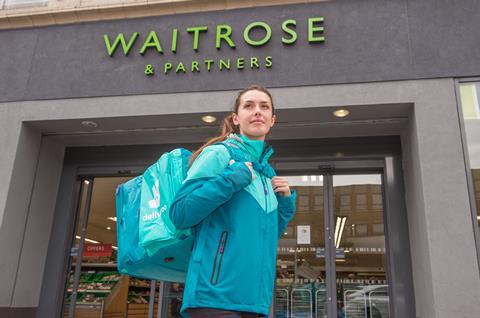 Waitrose is partnering with Deliveroo on a 12-week trial to give half a million households access to rapidly delivered own-label and branded groceries.
The supermarket said that, if successful, the trial would be extended into more locations "before looking at further opportunities to roll out on a larger scale".
More than 500 Waitrose products will be available on the delivery platform, including ready meals, fruit, vegetables, meat, milk, snacks, store cupboard and cleaning essentials, as well as beer and wine.
Customers will be able to place orders from one hour after their nearest shop opens through to one hour before it closes. Baskets will arrive in as little as 30 minutes, the supermarket said.
The launch of the trial coincides with Ocado.com's switchover from Waitrose to M&S, on 1 September.
Waitrose stores in Bracknell and Clifton will be the first to come online, with Surbiton, Fitzroy Street (Cambridge) and Notting Hill stores from 3 September.
"We have laid down a marker for our future strategy with the growth of Waitrose.com and Waitrose Rapid and this gives us another opportunity to give our customers a taste of what the future of convenience shopping could look like for us," said Waitrose executive director James Bailey.
"Our trial with Deliveroo has huge potential to give new and existing customers greater choice and flexibility for when and how they want to shop with Waitrose," he added.
The supermarket said the tie-up was intended to "complement" rather than replace its own Waitrose Rapid service, which promises orders within a two hour timeframe. Rapid has more than 23,000 customers, a three-fold increase compared with pre-Covid. It was expanded from a small number of stores in Hove and London in April.
Waitrose becomes the latest in a long line of grocers that have partnered with Deliveroo this year. In May, M&S extended its partnership, a month after Morrisons signed a deal with the Amazon-backed courier firm to start deliveries by bicycle and motorbike from more than 130 stores. A similar deal was struck with McColl's the same week, which saw 120 stores offer home delivery for the first time. Co-op has partnered with the courier company since early last year.
"Deliveroo's on-demand grocery services have proven vital for so many people during this difficult period, allowing families to get the items they want and need quickly without having to leave home," said Ajay Lakhani, Deliveroo VP of new business.
"We are excited about working with such a brilliant British brand, bringing people the food they need and want, on demand," he added.