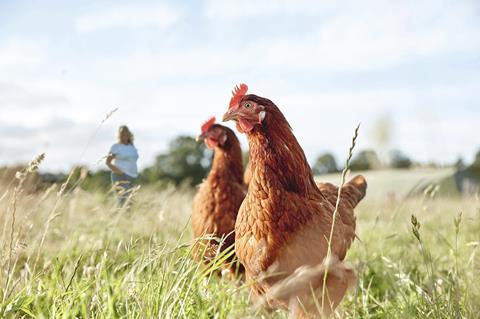 Waitrose has laid down a marker to its rivals by pledging it will never sell any Waitrose product made to lower standards than those currently used in the UK – regardless of the outcome of any potential post-Brexit trade deal.
In an impassioned letter to customers in the latest Waitrose Weekend magazine, the retailer's recently appointed executive director James Bailey assured shoppers the chain remained "committed to the high food standards you expect".
Any regression "from the standards we have pioneered for the last 30 years, both as a business and as a country, would be an unacceptable backwards step", Bailey insisted, as he pledged support for the NFU's campaign calling on the government to enshrine UK food standards in law.
"One issue causing immediate concern for our farmers is the deal we may strike with the United States, and the US's desire to have greater access to UK food and agricultural markets," said Bailey.
Despite the government's pledge any trade deal would not compromise the UK's environmental protection, animal welfare and food standards, many observers – from consumer, environmental and farming groups to a large number of parliamentarians – were now "expressing real unease", he warned.
"They believe that in an effort to win a trade deal for the UK, we could see the standards British farmers have worked so hard to reach and uphold, sacrificed," he added, while citing "the substantial number of examples where American standards fall well below our own – from lower-welfare chicken to hormone-treated beef and the extensive use of antibiotics".
Bailey also dismissed claims such a trade deal would allow food to be sold at lower prices, by suggesting consumers expected food businesses to deliver both on price and quality simultaneously, "no matter what their budget is".
"We know the public cares about this," he added, noting the million-plus signatures that the NFU's petition to protect standards in law had attracted.
"I may only just have joined Waitrose, but already I take huge pride in the high standards of animal welfare, environmental protection and food quality that are at the heart of everything we do," he said.
"It would be simply wrong to maintain high standards at home yet import food from overseas that has been produced to lower standards," he added. "We would be closing our eyes to a problem that exists in another part of the world and to animals who are out of our sight and our minds. I feel sure customers will share our view."
His comments come in the same week that Compassion in World Farming urged the CEOs of the UK's major food retailers to take a stand on food standards from any future trade deals, particularly from "cheap US imports".
Bailey said he "stands with Compassion in World Farming" on the issue, while Booths has previously made a similar commitment. The British Retail Consortium told The Grocer retailers "will not change their commitment to high standards, regardless of any future trade deals".
"There is huge opportunity to devise a global trading system for the UK that successfully helps to grow our economy, provides more jobs and more opportunity," Bailey said. But at the same time, any trade deals also needed to "tackle important global issues such as climate change, social injustice and animal welfare".