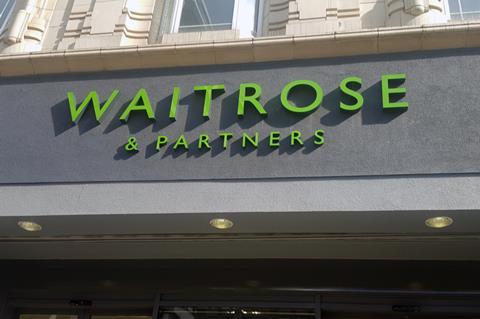 Waitrose has revealed plans to sell five stores to rival retailers, amid sliding profits at the John Lewis Partnership group.
The sale of the stores, to unnamed retailers, follows the closure of five other stores last year, despite a surge in profits at the premium retailer in 2018.
The five supermarkets set for closure are its Ashbourne, Barry, Blaby, Teignmouth and Torquay stores.
Waitrose performed ahead of the group average, as operating profit rose 18% to £203.2m during the year to 26 January 2019, after improvements in gross margins.
Sales at the grocery arm rose 1.2% to £6.8bn against the previous year, on the back of "stronger operational performance and well controlled costs", particularly in the second half of the year.
Online grocery sales jumped 14% during the year, following "significant investment" in Waitrose.com as well as new smartphone apps.
Last week, the retailer confirmed an end to its supply partnership with Ocado, which will finish in September 2020, as the grocery delivery operator announced a new £1.5bn joint venture with M&S.
Despite improved profitability, Waitrose staff have seen their bonus cut sharply, after the John Lewis Partnership announced its lowest bonus for 66 years.
The company said 83,900 workers would receive a bonus worth 3% of annual pay, down from 5% last year.
The bonus cut came as total underlying profits fell 45.4% to £160m at the group, driven by a 56% slump in profits to £114.7m at John Lewis.
Weaker homeware sales and gross margin pressures impacted profitability, while sales at the department store arm increased 0.7% to £4.9bn.
"In line with expectations set out in June, our Partnership profits before exceptionals have finished substantially lower in what has been a challenging year, particularly in non-food," commented the departing Chairman of the John Lewis Partnership, Charlie Mayfield.
"In Waitrose & Partners, significant investment in Waitrose.com, new customer smartphone apps and customer delivery services has led to a strong increase in online grocery sales of 14%, well ahead of the market, and increased online customer satisfaction.
"We expect 2019 trading conditions to remain challenging but are confident in our strategic direction and customer offer across both brands."