As revealed by The Grocer last week, Waitrose has now completed the process of restructuring its buying team after a lengthy consultation process.

But details of the restructure remain hazy, and the rumour mill has run wild as Waitrose has kept its cards close to its chest. "I don't know a single buyer that's left and I know at least 10," said one supplier this week.

So what's going on? From talking to suppliers and insiders, The Grocer has been able to piece together some answers.
What's the rationale?
One rumour is that Waitrose wants to reduce the number of buyers. But The Grocer understands that the restructure, while looking to improve the team's efficiency, is as much focused on consistency and collaboration, in terms of key functions such as buying, merchandising, product development and supply chain. It's a new iteration of category management, in which specialists are attached to specific categories, known as category pods.
As a result, roles that are today located together - for example technologists with their technologist colleagues - will instead be co-located with relevant category pods.
The aim is to get every team member to focus not just on the KPIs attached to their specific role, but also on commercial outcome. So a technologist, to take the same example, should become as invested in gross margin as in delivering outstanding innovation.
Individual roles will change. For example, buyers will become more exclusively focused on negotiating, while improved support systems will reduce their administrative workload.

Wholesale change was needed to develop a more efficient and replicable approach across the 140 or so categories in which it trades. It's a more systematic and rigorous approach, allied to better use of data.
So how much will headcount drop?
Despite the fact that an estimated 40% of the buying team may be affected, The Grocer understands there will be no net reduction in headcount. Rather than an exercise in cutting numbers, the aim is to improve efficiency (by removing duplication of effort) and consistency, through a shared focus.
However, The Grocer also understands that 89 senior buyers will become 54, while the number of junior buyers will increase.
A number of the senior buyers are understood to be taking the opportunity for early retirement.
Will there be fewer people in specific roles?
No. There will be no fewer technologists, merchandisers, negotiators and so on. In fact, some areas will be strengthened, most likely product development, which is considered fundamental to the future strategy.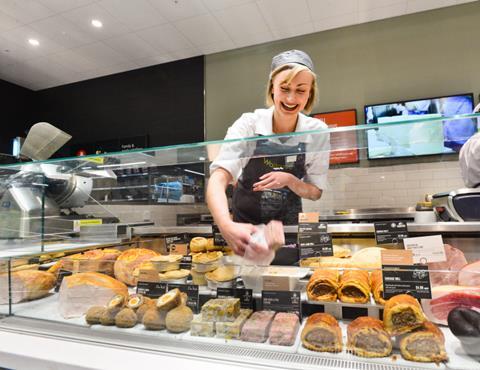 Why has the process taken so long and does everyone affected now know what's happening?
When it comes to staff consultations, the John Lewis Partnership operates to a gold standard - far exceeding the normal statutory process. That process is now complete, with staff members made aware of how they were affected last week. However, many have yet to choose between accepting an alternative role or redundancy and out of respect for partners, senior management will not announce details of the restructure until the final details are in place.
How was the strategy developed?
It's the brainchild of commercial director Rupert Thomas, inspired by extensive conversations with suppliers and partners since his promotion in 2017, with management consultants from Deloitte and PA Consulting also helping with the strategy and execution.
Will reports to senior management change?
No. Following an earlier restructure Thomas has six direct reports- two trading directors (one for fresh and one for ambient), a head of product development, a head of technical & compliance and a head of B2B - and both the structure and personnel won't be affected.
How will the restructure affect product availability?
Availability at Waitrose has improved recently in the Grocer 33 and it's claimed the restructure will take it another step forward. As well as the planned reshaping of teams, there has been investment in IT systems including a master data management programme, to knock data into better shape. It's already improved ranging capabilities and visibility of stock throughout the supply chain.
What role will myWaitrose data play?
There's an acceptance that Waitrose is not best in class when it comes to data use. But the supermarket boasts a high penetration rate for its myWaitrose loyalty card, at around 70%, and as well as the data infrastructure side, is investing in analytical capabilities and resources needed to make more of it. It wants to use it to better understand what happens when a line is removed as part of a range review, and other characteristics of individual SKUs including loyalty scores, as well as improving insight at category level.
How will store staff be affected?
There are no cuts planned for retail staff, who will be neither more nor less empowered by the changes. Waitrose range reviews are already conducted in conjunction with a team that includes strong representation from stores, known as a trading board. That won't change, but it's hoped store staff will see improvement in ranges, a better pricing and promotions structure and improved availability.
How will it affect the day-to-day work of suppliers?
Waitrose prides itself on maintaining good supplier relations. The hope is that relations should strengthen as a result: instead of talking mainly to negotiators, suppliers will have access to a broader set of skills and experts within Waitrose, resulting in more consistent communication from the various roles. The formation of new teams, and the promise of a continuous exchange of information with them, are seen as positive moves by suppliers.
Is this restructure linked to the ongoing reset and will it be affected?
No. The reset has been taking place in parallel through a different process devised by consultants OC&C, though it's now being managed by an in-house team of data analysts. It's understood to be going well in terms of boosting sales and profitability, with 24 categories reset last year and a further 60 due to be completed by the end of this year.