Wilson has embodied Booker for many of its members, some of whom fear new boss, Tesco's Andrew Yaxley, will have different priorities
Charles Wilson's decision to step down as CEO of Booker Group from next February came as a surprise, but not a shock.
It is perfectly understandable that Wilson, who has led Booker for 15 years and just two years ago was diagnosed with throat cancer (from which he is happily in remission) would want "to take things a little easier".
Nevertheless, his departure, and replacement by Tesco chief product officer Andrew Yaxley, will be seen as a watershed not just for Booker, but the entire wholesale sector.
Booker's rivals will sense an opportunity, while there are already rumblings of concern from Booker customers, who fear that as it becomes increasing enveloped into the fabric of parent company Tesco, they will become less of a priority.
Wilson's contribution to Booker and to the wholesale sector has been profound. When he joined from M&S in 2005, Booker was, in his words, "in a bit of mess", with debts of over £300m, a hole in its pension fund and under the ownership of Baugur, the highly leveraged Iceland operation. It also lagged the UK's biggest wholesaler at the time – the now-defunct Palmer & Harvey.
His turnaround catchphrase of "price, choice and service" drove one of the most successful business recoveries of recent times. Booker accounts for the year to 1 April 2005 show the wholesaler had sales of £3.23bn and recorded a pre-tax loss of £25.3m. For the year to 24 February 2019, Booker's turnover was £5.93bn, with pre-tax profits of £200m.
"I have had the privilege to both compete with Charles and count him as a colleague and friend," says Parfetts founder Steve Parfett. "Charles is the outstanding leader in wholesaling of our generation. Facing a huge challenge to turn around a failing Booker, he succeeded with consummate ease but also much more quickly than anyone had a right to expect.
"Perhaps his greatest talent was the ability to forensically analyse a problem and then communicate the remedy in a way that every single Booker employee could clearly understand and focus on."
Wilson embodies Booker, adds Bestway MD Dawood Pervez, and "was the key reason why Booker turned around its fortunes and became so successful. His experience and presence will be sorely missed."
While he is set to hand over an incredibly well-run business unit to Yaxley, there will be those privately hoping for some sort of 'Fergie effect'.
"Charles definitely deserves to be respected as a businessman and he did an incredible job at Booker, but his legacy is that he sold the country's largest wholesaler to the country's largest retailer and if you asked me 10 years ago what I would fear most for our industry that would have been my answer," says one rival wholesaler.
Charles Wilson's key career moments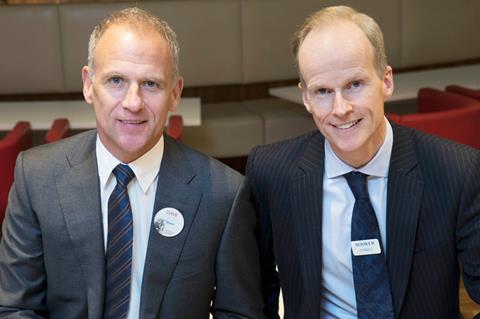 1986: Starts his career at P&G
1998: After several years as a consultant, joins Booker, which merges with Iceland in 2000
2004: Joins M&S. Together with Stuart Rose and Steven Sharp, fights off hostile takeover bid from Philip Green
2005: Tipped to take over as M&S boss, jumps ship to lead turnround of struggling Booker
2007: Takes Booker public via reverse takeover of online wholesaler Blueheath, run by Doug Gurr, now outgoing Amazon UK boss
2008: Buys back Baugur's stake
2009: Booker opens first depot in India
2012: Acquires Makro's 30 depots for £140m
2015: Acquires Budgens and Londis symbols business for £40m
2017: Along with Tesco's Dave Lewis, Wilson masterminds a £3.75bn merger of Tesco and Booker
2018: Newly appointed as Tesco UK CEO, Wilson is diagnosed with throat cancer, and steps down to focus on running Booker's integration with Tesco
2020: Announces retirement from February 2021 in order "to take things a little easier"
Yaxley's challenges
The fact that Yaxley is a Tesco insider and doesn't have a background in wholesale could prove one of his biggest challenges.
"I think we will see more Tesco DNA in the way the Booker estate is run and their approach to their symbol group," suggests Parfetts joint-MD Greg Suszczenia. "A highly disciplined national retailer will never quite understand the concept of independent stores making a good living from stores turning over less than £20k a week serviced by wholesalers operating on wafer-thin margins."
Becoming more like Tesco, however, could be a good thing for customers, particularly if the transition leads to lower prices for retailers and caterers, explains another leading wholesale source. He describes Wilson's retirement as "the beginning of the end, or the end of the beginning. All the big names are gone. It will now be a Tesco distribution business.
"Clearly the two businesses will continue to be integrated. Senior appointments since the merger have been mainly Tesco people going into Booker."
This is an area of concern for Booker retailers, the majority of whom don't just like Wilson, but love him. As one rival puts it: "He really had a hold over the customers – he even managed to convince them that being bought by Tesco was OK."
"All the big names are gone. It will now be a Tesco distribution business"
Premier retailer Samantha Coldbeck calls Wilson "an inspiration". "He's worked closely with many retailers during his 15 years at the helm of Booker and has always championed the independent retailer's cause, appreciating our issues and delivering many solutions using his insight and knowledge of the sector. He'll be greatly missed."
A tough act to follow, says another Premier retailer. "We are quite concerned and nervous about the future of Booker under a Tesco boss. Charles' knowledge of the trade is second to none.
"The general feeling is that more Tesco influence won't be a good thing. Booker will be less important. It feels as though Tesco only wanted Booker for the foodservice side.
"I'll give it a year but I wouldn't rule out moving symbols if things go downhill."
The retailer's reference to foodservice is apt. It was a widely held view at the time of Tesco's £3.75bn takeover of Booker in 2018 that the supermarket was most interested in the fast-growing catering side of the business, an area Tesco had not previously tapped.
That looked like a no-brainer a couple of years ago, but that was before the Covid-19 crisis laid waste to vast swathes of the hospitality sector. Indeed, as The Grocer reports this week, Booker has merged its Chef Direct foodservice business with its recently acquired Best Food Logistics operation, after the former suffered a sales decline of about £100m since March, around two-thirds of its annual turnover.
As the crisis continues, it is likely to be a tough autumn and winter for the hospitality sector. Therefore, getting to grips with this massive challenge will be a top priority for Yaxley come February. He will need to balance this against looking after his independent retailers – otherwise those rivals out there will be ready to strike.