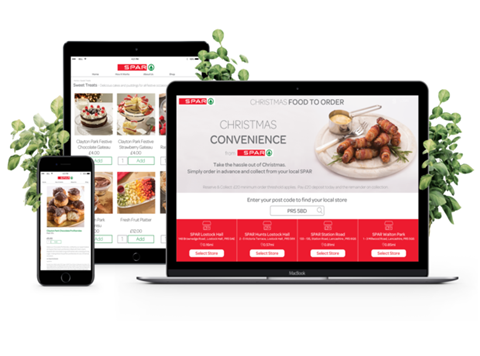 Spar wholesaler James Hall & Co is launching its first online Christmas catalogue.

Christmas Convenience will offer the same range of products as its pre-existing print catalogue with a minimum spend of £20.

Customers choose a Hall's supplied Spar store where they want to collect their groceries, shop online and then choose the time of collection.

"As more UK consumers in the UK than ever shop online for groceries, we need to find new and innovative ways to encourage shoppers into our stores," said James Hall & Co sales & marketing director Peter Dodding.

"Christmas Convenience - the first online Christmas shopping initiative in Spar - is a fantastic way to boost our retailers' footfall, and help them make incremental sales ahead of this year's festive season."

The online product offering includes boneless British turkey crowns, British silverside beef roasting joints, pigs in blankets, and pork, sage & onion stuffing.

This follows the success of its printed Christmas brochure over the past two years, where customers could pre-order from a range of 100 festive products and select an in-store collection date.

The 114 participating Spar stores saw an average customer spend of £55 last year.

"By moving our Christmas catalogue online, we are not only stepping into the digital world, but also making incremental profits from online orders - marking a massive opportunity for our Spar stores," Dodding added.

The launch is backed by in-store PoS, a Facebook campaign with promoted posts and adverts, Spar radio, and 500 brochures in each store.