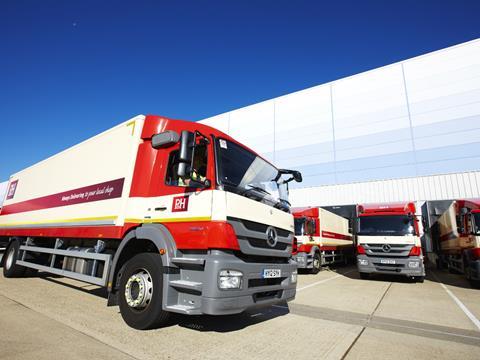 Wholesaler Palmer & Harvey has collapsed into administration after talks over a rescue deal with private investment firm Carlyle Group failed.
The Grocer understands that staff at P&H's Hove HQ were told the company had gone into administration this afternoon and that PwC was now in charge of the business.
The wholesaler employs around 3,400 staff and PwC has confirmed that 2,500 staff based in its Hove HQ and across its depot network have been made redudndant with immedaite effect.
The remaining employees will assist the joint administrators in managing the activities of the business to an orderly closure. Currently 450 employees have been retained within the wholesale business, said PwC, explaining that the November payroll had been paid before the adminstration.
"The Palmer & Harvey name has been a trusted partner for retailers and suppliers for nearly 100 years. This is a devastating blow for everyone who has been involved in the business. The administration team will focus on working with employees, clients and suppliers to facilitate a smooth and effective wind-down or transfer of operations over the next few weeks," said joint administrator and PwC partner Matthew Callaghan.
"The P&H Group has faced a challenging trading environment, and the need for significant restructuring has been recognised for some while. The company has insufficient cash resources to continue to trade beyond the short term and the directors have concluded that there is no longer any reasonable prospect of a sale. Therefore, the directors have had no choice but appoint administrators.
"The administrators are working closely with employees affected by the closure of the business to ensure they receive the support they need during this difficult time to assist with their claims for redundancy and other compensatory payments. Our priority is to ensure that all employees made redundant are assisted in processing their claims with immediate effect. We will be circulating correspondence to all staff as soon as possible which will outline the support available to complete redundancy payment forms."
PwC said it is continuing to explore options for a sale of P&H Direct Van Sales Limited, P&H Sweetdirect Limited and P&H Snacksdirect Limited, all subsidiaries of Palmer & Harvey McLane (Holdings) Ltd.
WS Retail Limited, which trades as Central Convenience Stores has not been placed into administration and continues to trade as normal.
Customers have also been informed that there will be no deliveries made tomorrow and rival wholesalers are gearing up to step in.
The failed talks involved P&H, Carlyle and the wholesaler's two biggest suppliers, the tobacco giants Imperial Brands and Japan Tobacco International.
The tobacco suppliers are understood to have stumped up significant amounts of bridging capital in the past few months while P&H looked to secure a deal over its future.
"JTI can confirm it was informed today that Palmer & Harvey had unfortunately entered administration," said a JTI spokeswoman. "Throughout the whole process JTI has worked continuously to facilitate a constructive solution to the P&H Group's challenges including extending significant financial and operational support to allow P&H to continue its operations. Regrettably, our considerable efforts were not successful. We have a contingency plan in place and we do not expect any significant interruption in the supply of our products."
The Grocer understands that P&H's trade creditors, including the tobacco giants could face exposure of around £500m in the wake of these events.
Rival wholesalers told The Grocer they were ready to help any P&H customers in need of supply.
"We are ready to help any P&H's customers either small independents or national retail chains," Booker CEO Charles Wilson told The Grocer.
Bestway MD Martin Race said the wholesaler was "open for business" and "able to support any retailers who needed help".
Today's events were triggered after Sky News this morning broke the news of the failed talks with Carlyle.
Sky said Carlyle had been looking at deal involving a pre-pack administration and The Grocer understands this to have been the case, with the investment firm looking to pay a nominal fee of £1 for the parent company.
P&H has been beset with availability issues over the past few months, which The Grocer understands has been linked to its ongoing financial situation.
A spokesman for P&H declined to comment on the administration.