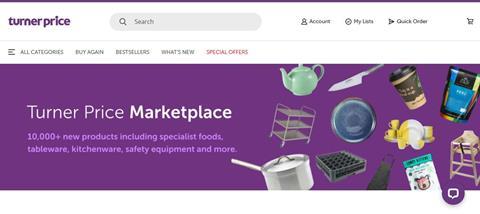 Foodservice wholesaler Turner Price has launched a third-party marketplace for suppliers, with the ambition of listing 50,000 SKUs within a year.
The family-owned business has worked with Mirakl – which powers marketplaces for Carrefour, Auchan and Kroger, among others – to quietly launch the platform earlier this month. Since launch, the range available through the wholesaler has risen from 4,500 products to 12,000.
"We've been up to now doing it the traditional way," Turner Price sales and marketing director Julian Owen told The Grocer. "We've got four walls and stocked goods in our warehouses. We felt that was limiting the choice for our customers. We're stocking the gravy we think they might want to buy, but the chef might be wanting something else.
"How do we expand? Do we buy more vehicles and warehousing space? That's the traditional way for a wholesaler to grow. But why not be a leading digital food wholesaler? That's what brought us to the marketplace model," he added.
Within four weeks the SKU count will continue to climb to 20,000 with the ambition of around 50,000 products on offer by April next year. The broadened range means the wholesaler can "sell customers not only food goods but get them buying categories from us we don't supply that they are still having to buy, but elsewhere" Owen explained.
Several brands have launched stores within the marketplace, including Teapigs, catering equipment and tableware supplier Nevilles and Mighty Small, itself a wholesaler for challenger brands.
The model was beneficial to Turner Price as it becomes a one-stop shop for customers, Owen said, and takes a commission on sales made by suppliers through the platform. Customers benefit from being able to buy everything they need for their business in one place, with a single payment.
Suppliers stand to get more eyeballs on their lines, and tap Turner Price's 2,500 active customers. Existing suppliers can offer a much wider range than Turner Price would be able to stock.
"It enables them to build a bigger brand within our customer base than they ever would within the existing model," Owen said. Smaller brands that "we as a bigger wholesaler would never stock" also have the opportunity to list.
The commission structure "is very generous" at present, but charges for having a store on the marketplace could be introduced as the model matures.
The first suppliers on the Turner Price marketplace were selected for their e-commerce maturity, service levels and keenness to be involved. Around 120 have been tapped for the marketplace's initial phases.
Suppliers must manage delivery of orders made on the marketplace to the customer themselves.
"Some suppliers look at you as if you are talking an alien language because they're used to putting pallets into warehouses. But many have the opportunity to change the way they do things and are taking it," Owen said.
Since launch, Turner Price's online sales have increased from 15% of total sales to around 50%.
Marketplaces have become the dominant model of e-commerce over the past decade, with the likes of Amazon, eBay, Asos and Etsy now household names. Several supermarkets have adopted the approach, including Walmart, Kroger, Auchan, Carrefour, Ahold Delhaize and, since March, The Range.
Turner Price's is claimed to be "the UK's first foodservice marketplace". "Definitely there is first-mover advantage here," Owen said.