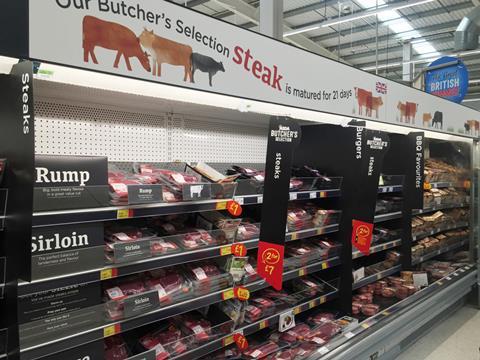 Earlier this month, Asda quietly rolled out a revamp of its fresh meat aisles - with a dramatic new look and some big changes to merchandising.

Asda hasn't said much about the revamp, except that it follows a range review of its meat lines and is "in line" with customer feedback. But it comes as the latest grocery share figures show the supermarket's sales are down 5.6% year on year, with its share falling to 15.5% as Lidl and Aldi reached new record market shares of 4.5% and 6.2% respectively on soaring sales. Fresh meat is a key battleground in the war with the discounters, and the pressure is on for Asda to reclaim sales in this crucial category.

So how exactly has Asda revamped its meat aisles? Why did the supermarket decide to go down this route? And can this help it fight back against the discounters?

There doesn't appear to have been any movement on price by Asda. Average prices across 694 own-label fresh meat lines are relatively static (+1%) month on month (Brand View 4 w/e 27 July 2016). But there have been some striking changes to the aesthetics of Asda's meat aisles. New black shelf edges and backgrounds give the fixture a far more premium feel, while illustrated overhead signage makes it easier to navigate the aisles, and highlights the provenance of the meat on sale.

It has also thrown in some fancy point of sale to better educate and inspire shoppers - including a simple cut guide for the steak section that wouldn't look out of place in a high-end butchery.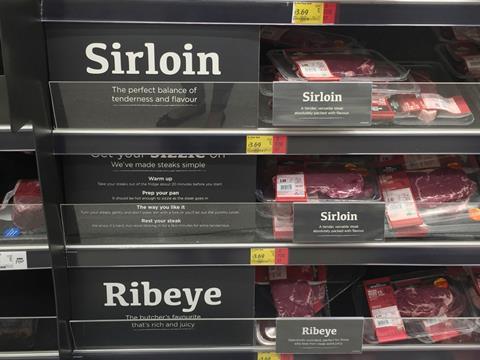 This new look is not exclusive to meat, and has been rolled out across some of the supermarket's other fresh food sections, but the use of black does mimic what other supermarkets have been doing to give their meat fixture a more premium feel, says Matthew Southam, senior multiple retail manager for AHDB Beef & Lamb,

"Tesco led the way in using black four or five years ago to make the meat aisles feel and look a bit more premium," he says. "It does get away from the clinical look and feel of the meat aisle and increase the quality perception, because everyone associates black with the premium tiers in meat".

Asda has also experimented with the layout of its meat fixture, bringing added-value sections such as BBQ Favourites and Ready to Cook into the core meat aisle alongside fresh pork, beef, lamb and poultry.

"Most supermarkets will have a fresh meat aisle and a separate added-value aisle that includes sous vide and ready-to-cook products," says Southam. "But Asda has brought them together." This fits better with how people shop, he adds, and should help tempt more customers into the fresh meat aisles.

"Consumers are unlikely to pick up joints and some of the longer cooking time fresh meat products for a midweek meal, but by getting them down there with products and solutions that are relevant for the midweek meal you are extending that category and encouraging them to look at some of the raw meat alternatives."

Cross-species move

Perhaps the most significant change to Asda's meat aisles, however, is the introduction of fresh meat sections that group pork, poultry, lamb and beef products together by cut.

Asda remains reticent on the details of this particular change, saying only that it is grouping some products by cut to help shoppers "visualise the end meal". Visits to stores suggest this approach is so far limited to 'burgers' and 'joints', with the traditional species segmentation still dominant across the rest of the fixture.

But even if Asda is just dipping its toe in the water of cross-merchandising fresh meat, it is still a significant step, says Southam, who points out none of the other mults are doing it, despite research showing time and time again that people shop the category by meal occasion, not species.

"Shoppers don't think in terms of species," he adds. "They will first think about a type of meal - which is very much down to the meal occasion and the time they have to cook it - and then be drawn to a species in store based on factors like price, personal preference, and promotion."

Retailing by occasion - such as BBQ - in the fresh meat aisle "enhances the customer proposition", says Tony Lock, MD of retail design consultancy Sherlock Studio, and - along with the black signposting - is an "intuitive" move by Asda.

Of course, this doesn't necessarily mean Asda's new meat aisles will prove a hit with shoppers - or be enough to win back market share from the discounters.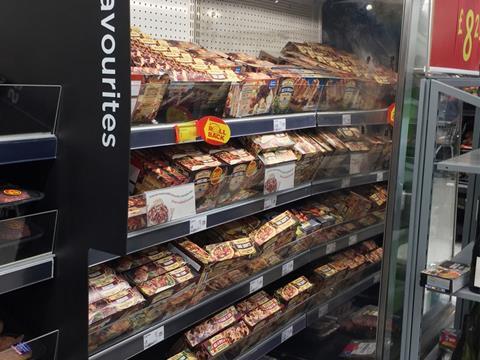 And the "jury is still out" on the wisdom of grouping products from different species together, adds Lock.

"Whilst it's novel, it could create confusion, as shoppers are used to merchandising being done in a certain way. By analogy, Morrisons previously tried categorising its wine by taste, but subsequently moved to retailing by origin, as shoppers more easily understand navigation by country."

More of an "evolution than a revolution", Asda's revamped fixture also "misses an opportunity to do something really different" Lock argues, such as providing theatre and celebrating Asda's value proposition. "A 'Sunday roast for a fiver' bay might have been more aligned with Asda's USP," he adds.

Southam admits cross-merchandising meat is still a relatively untested approach, with any previous attempts at trials skewed by the potential for initial shopper confusion.

"People are so ingrained because no matter what supermarket you go to, species are always segmented - with mince, joints, steaks, casserole in that sort of hierarchy."

Asda itself doesn't appear to have trialled the new aisles, and its reluctance to give too much away on the cross-merchandising approach indicates this is still very much a work in progress for the supermarket.

But despite the uncertainty, Southam insists other retailers must take note of Asda's lead and start thinking about meal occasions. There is even potential to go further, he says, and look at grouping fresh meat with other dish components.

"People aren't just buying a protein and having it with traditional veg for their midweek evening meals anymore, they are looking at meat as a component of a dish," he says.

"Retailers have got to do more to inspire people that they can use a casserole cut to make a curry. We are keen for them to do that by having the accompanying products, with meal deal cross-categories."

For Asda, the proof will be in the pudding, but with the status quo clearly no longer working for the mults, it should at least be applauded for taking the first step towards a new dawn of meat merchandising.