This article is part of our digital feature on wine
He doesn't say as much, but I get the impression Marc de Fays thinks Charles and Ruth Simpson are somewhere on the edge of madness. "If I had the same opportunity, I wouldn't be doing this," he says, wagging a chardonnay vine at me. "I'm from Belgium so I love this kind of weather. But the vines do not. You just have to cross your fingers."
From grape to glass…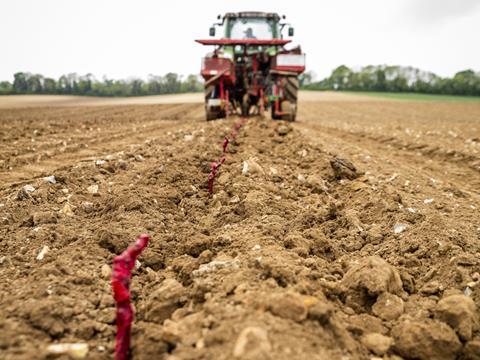 The planting began on 18 May, 2016. Within two days, 42,000 vines had been planted across 10 hectares.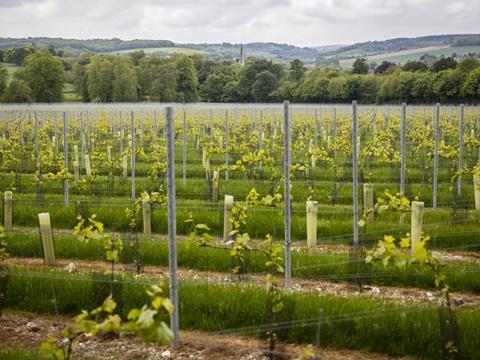 The first vines were planted in 2014 and will be ready for picking in October 2016. The first harvest is expected to yield enough wine to fill 15,000 to 30,000 bottles.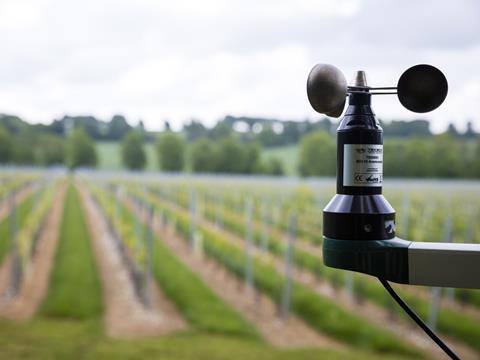 A weather station monitors the wind direction and strength, temperature and daylight hours.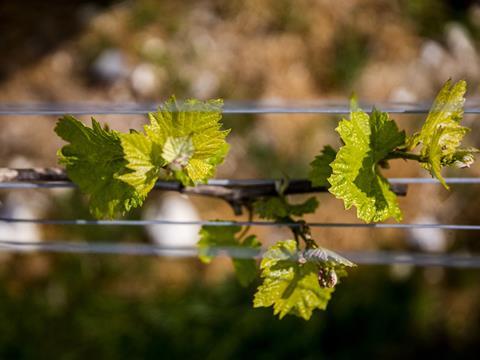 Strict rules state that in the Champagne region of France no more than 3,200 vines can be planted per acre. In England, no such rules exist; the Simpsons have planted 1,840 vines per acre.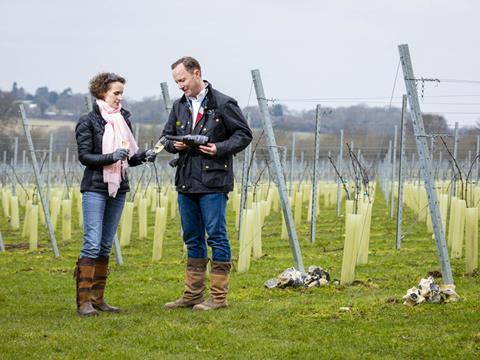 A bubbly break. The Simpsons produced their first bottles of French fizz in 2012 and now fill 10,000 bottles a year. Their first bottles of English wine will be available in 2018/2019, depending on how the wine develops.
The Simpsons are used to doing that. It's May, in Kent, and the only thing certain about the weather is its uncertainty. In the next three days, the husband-and-wife team want to have planted 41,500 vines across 10 hectares. They planted their first 10 hectares in 2014 and will harvest their first crop from that vineyard in October. They'll plant another 10 hectares next year, Charles tells me as the heavens open: "The ultimate goal is to be producing about 250,000 bottles a year."
"If I had the same opportunity, I wouldn't be doing this. I'm from Belgium so I love this kind of weather. But the vines do not. You just have to cross your fingers."
Of course, they aren't as mad as de Fay's rolling eyes suggest. Simpsons is one of a growing number of English bubbly brands laying down new vines faster than fizz flies from a shaken bottle. More than 2,000 acres of English countryside are now cultivating grapes for winemaking, more than double the area of a decade ago. Acreage is expected to grow a further 50% by 2020.
Even the French are eyeing England. Taittinger became the first Champagne house to cross the Channel in December, buying 69 hectares of a former orchard in Kent. Others are expected to follow suit. All this is driving something of property (or bubbly) bubble, says Charles: "When we bought here in Barham (eight miles south of Canterbury) it was £10k an acre for grade three agricultural land. Estate agents are now approaching farmers saying they can get £14k or £15k an acre."
"In Champagne, yields can be more than 10,000 litres per hectare, but in the UK, it is 2,100 on average…"
It's easy to see why the south-facing slopes of Kent, Sussex, Surrey and Hampshire are being snapped up. English fizz has swept the board at international wine awards in recent decades as producers have moved from making mostly unremarkable still wines to fizz that can rival even those of Champagne. Indeed, the South East shares the same chalky soils as the region, making it ideal for the three classic Champagne grapes: chardonnay, pinot noir and pinot meunier.
So long as the weather plays ball. This is a crucial factor, warned a University of East Anglia (UEA) study in April that identified variable weather as a threat to the industry's viability. "UK wine yields are very low," said the UEA's Alistair Nesbitt. "In Champagne, yields can be more than 10,000 litres per hectare, but in the UK, it is around 2,100 on average… the impact of short term weather events such as cold snaps, sharp frosts and downpours will continue to threaten productivity."
But the Simpsons know what they're doing. In 2002, the couple bought the Domaine Sainte Rose wine estate in the Southern France's Languedoc, with the aim of raising the profile of wines from this lesser-known wine region. And they're succeeding. Waitrose stocks the estate's Coquille d'Oc Blanc and Rosé wines (£7.49/bottle) and online retailer Naked Wines sells a variety of the Simpsons' still and sparkling Langedoc wines.
Of course, growing grapes in Kent is a completely different ball game. To mitigate the greater risk of disease caused by Kent's cooler, wetter climate, the Simpsons are using no fewer than 36 different genetic clones of the chardonnay, pinot noir and meunier varietals and keeping an eagle eye on the weather with a series of high-tech weather stations across the estate to keep abreast of optimum timings for planting, spraying, pruning and harvesting the grapes.
"I'm completely obsessed with the weather to the point that Ruth and I lie in bed watching the weather," says Charles, looking up from the weather app and up at the darkening skies. "The English weather is like how it was in Champagne 90 years ago. Looking at this commercially, we need it to be good every year."
If it is, the first bottles of Simpsons English Wine will be available in 2018. Fingers crossed…
Previous article: How to market wine… without mentioning wine