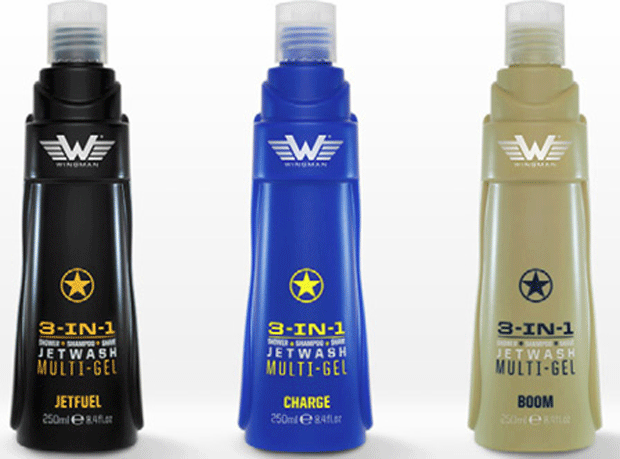 Male grooming brand Wingman is reaching for the sky with a gel that can be used for showering, shampooing and shaving.
The business, which also produces deodorant wipes and featured in TV show Britain's Next Big Thing, is rolling out the 3-in-1 gel to 495 Tesco stores nationwide next week (rsp: £3.49/250ml bottle). One of the three variants - Jetfuel - claims to offer the scent of aviation fuel, wood & spice while Boom smells of spearmint & peppermint and Charge of grapefruit, lemon, mandarin & coconut.
Founder Stuart Jolley said the range - the first of several launches planned for the next few years - would plug a gap for a "cool and credible" offering in the male grooming aisle.
"The multi-gel is rooted in the theory that less is more and our aim is to redefine how men view the functionality of traditional bathroom products," he added.
Targeted at 18 to 30-year old men, the gels were positioned as a "slightly older" alternative to Unilever's Lynx, but were "younger and more affordable" than L'Oréal Men Expert, claimed Jolley. Two former Coca-Cola Enterprises employees - who both worked at a senior level on the Monster Energy brand - have been brought in to turn Wingman into a "true lifestyle brand".
Wingman, which is a privately funded business and has recently invested in a Bristol office, had worked in "close partnership with Tesco" to ensure it brought "true innovation" to the category, said Jolley, who predicted the brand would be worth £2m in its first two years.
He added that he would continue to produce Wingman Wipes, which featured on the Britain's Next Big Thing TV show hosted by Theo Paphitis two years ago, but said the main focus would now be on the new gels and further NPD.