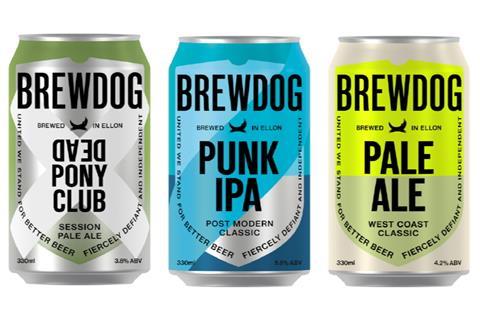 BrewDog has been given a major makeover.
The craft brewer has rolled out new packs across its entire range of brews, and has revealed a "new course" for the Aberdeenshire business, including a number of sustainability initiatives.
The new packs, which BrewDog said played up its status as a "maverick" brand, will roll out from next week.
The brand's co-founder and CEO James Watt said BrewDog was "working to inspire a new kind of business, with sustainability at its core".
It has launched a 'Cans for Equity' programme, under which anyone who trades in 50 empty beer cans will be made one of its 'Equity Punks' with stock in the company.
It has also promised an "upcycling revolution", through which "old cans from any brand will be refilled with craft beer and given a new lease of life". BrewDog said it would reveal further details on this over the coming weeks.
Its distilling arm will meanwhile begin using "beer that misses [BrewDog's] industry-leading standards" to make vodka and reduce wastage.
Lastly, it has created a "Tomorrow Fund" through which it will invest an additional £1m every year "to support research and initiatives that help the brewing industry to have a positive impact on the world as well as charitable initiatives chosen by their crew members and shareholders".