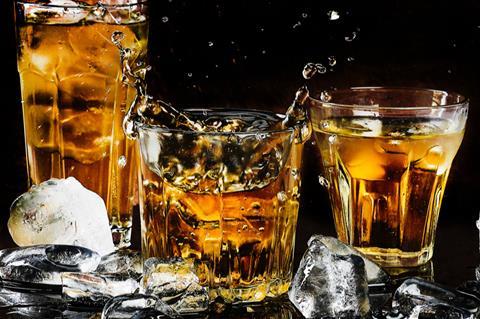 Brits are being forced to pay more for US whiskey, with prices surging since the introduction of EU ­tariffs on US imports last year.

Analysis by The Grocer of shelf prices for US whiskey brands - including Jim Beam, Jack Daniel's, Buffalo Trace, Knob Creek, Bulleit and Woodford Reserve - reveals a significant upswing in prices compared to this time last year, driven by a combination of base price increases and fewer promotions [Edge by Ascential 52 w/e 17 September 2019].
A 70cl bottle of Knob Creek, for instance, is up an average of 9.1% to £36 in the mults, while the same-sized bottle of Bulleit bourbon has risen an average of 1.8% to £27.50.
A 70cl bottle of Jim Beam, meanwhile, is up 9.9% to an average of £16.60, while a litre has risen 11.2% to an average of £23.63. A 70cl bottle of Maker's Mark is up 6.7% to £32.
Jack Daniel's, the UK's biggest US whiskey brand, saw prices rise an average of 7.9% to £24.60 for a 70cl bottle of its core whiskey, but the brand's more premium variants - Gentleman Jack and Single Barrel - are both significantly cheaper, with prices falling by an average of 14.0% and 8.4% respectively.
The EU slapped 25% tariffs on US-made whiskeys in summer 2018, in retaliation to US tariffs on EU steel and aluminium exports. US tobacco, sweetcorn, orange juice and peanut butter were also targeted.
Jack Daniel's and Woodford Reserve owner Brown Forman warned at the time prices for Jack Daniel's could rise by roughly 10%.
The Wine & Spirit Trade Association has repeatedly called on the government to suspend the tariff and protect whiskey consumers from price hikes.
One industry source suggests the UK's impending departure from the EU could potentially help alleviate the pressure on US whiskey imports. "You would imagine [the tariffs] might come away - we're going to need to be friends with people other than the Europeans."
The 'Trump' effect?
It comes as growth is stalling for the two biggest players in US whiskey. At the time of The Grocer's Biggest Alcohol Brands report earlier this year, sales of Jack Daniel's were down 0.6% to £244.7m [Nielsen 52 w/e 20 April 2019]. Jim Beam, meanwhile, which at the same point in 2018 had upped its value sales by almost a quarter, grew by just 1.8% to £45m [Nielsen].
The industry source suggests the reputation of the Trump administration might also be turning shoppers off US whiskeys. "A big change in the UK spirits market has been the impact of our friend Donald on sentiment towards America," they add.
"You need to ask the question around [drinkers] attitudes to America - drinks are so tied up with their origin as far as craft credentials go. You're buying into a lifestyle and an image, particularly with a brand like Jack Daniel's."