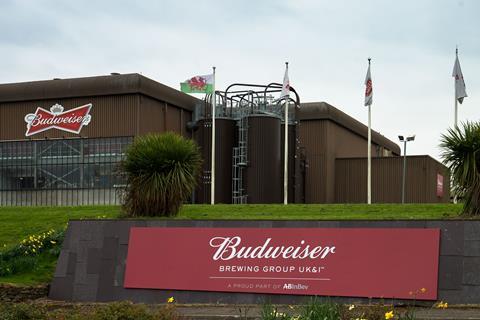 Budweiser Brewing Group is to invest more than £115m in its UK breweries, increasing capacity and creating 55 new jobs.
The brewer has today revealed plans to invest in its breweries in South Wales and Lancashire in a bid to "drive economic prosperity across the UK", as well as increasing capacity and efficiency.
The investment will create a total 55 new jobs by the end of this year, building on the current 1,000-plus employees across the two sites.
It will also increase brewing capacity by 3.6 million hectolitres across the two sites – the equivalent of 630 million pints.
Budweiser said the investment was good news for the UK economy after a tough year, and "underlines the value of the beer industry".
"We know the beer industry is hugely valuable to the UK economy, and we believe our investments in our UK operations will be a catalyst for the recovery post-Covid," said Budweiser Brewing Group UK&I president Paula Lindenberg.
The funding will be split between the two breweries, with a total £72m to be invested in the South Wales site and £45m to be invested in the Lancashire site.
Investment at Magor Brewery in South Wales includes a new bottling line, which was installed last year, eight new 8,000-hL fermenting units to increase brewing capacity and brewer-wide efficiency improvements such as better chillers, a new wort cooler and increased line speeds.
Thirty-two new jobs in operational and management roles will be made available at this site.
The Samlesbury Brewery in Lancashire, meanwhile, will receive a £45m investment, including a new canning line for sustainable plastic ring-free cans and to increase canning capacity, multiple modifications in brewing, utilities and logistics and brewery-wide efficiency and equipment improvements, including a boiler system upgrade.
It will also employ people in 23 new jobs across operational and specialist engineering roles.
Budweiser said the improvements would enable it to meet growing demand for beer, which reached its "highest sales levels on record" last year in the off-trade [Nielsen 13 w/e 26 September 2020].