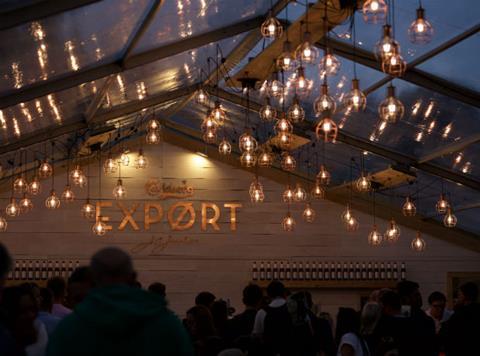 Sports or music: an arbitrary decision, sure, but remember secondary school? It was a fundamental, binary choice, one that decided your place in the social hierarchy and, more importantly, how 'cool' the other kids thought you were.
Switching between the two was hellishly difficult. The popular sporting kids had very little crossover appeal to the pseudointellectual musos, and no one in the locker rooms cared what you thought of Joy Division. What a nightmare.
But Carlsberg is about to do just that. It's pulled its 22-year sponsorship of the England football team to focus on building its presence in live music and at festivals, while rival AB InBev has taken its place – making Budweiser the dominant beer brand in UK football (it also sponsors the Emirates FA Cup).
It's unclear what went on behind closed doors. Did AB InBev outbid Carlsberg? The official press release speaks of a 'significant' investment into Wembley Stadium. Or did Carlsberg, embroiled in a vigorous push to turn its flagship lager's fortunes around, decide it wants to be one of the hip kids – because, let's face it, loud guitars and irreverence were always just plain cooler.
There's no denying how mind-bogglingly important sports sponsorships have been in turning the likes of Carlsberg and Budweiser into the globally recognised brands they are. However, their mass appeal comes with some unglamorous connotations – of cheap multipacks strewn around at boozy back garden barbecues and football shirt-clad lads puking in the street post match.
That's hardly the 'premium' angle Carlsberg is shooting for with moves like its hyper-trendy ad campaign with Danish actor Mads Mikkelsen for the rebranded Export lager and the unflinchingly hip 'Danish Quarter' pop-ups it's been running at music festivals over the past year.
Ditching the England team – if that is indeed what has happened – is a bolshie move, yes, but Carlsberg needs to be bolshie right now. Budweiser, having outsold practically every other beer on the market in 2017, is in prime position to play the volume game (and the beautiful one). Yet Carlsberg's sales were down some £17m (12.5%) year on year as of last September [Nielsen].
It desperately needs a fresh focus, and loosening its commitment to football to move further into the music world may provide just that. And it's not as if Carlsberg is abandoning football entirely, given it still sponsors eight Premier League clubs.
Turning booze brands around is tricky business. It requires time and dedication. Others have managed it. Stella Artois has been revamped thanks to a renewed focus on posher sporting occasions like Wimbledon and Ascot, and Guinness' Brewers Project injected a much-needed jolt of life into the long-standing brand.
There's no reason Carlsberg can't do the same. Its head honchos would be silly not look at this as an opportunity. Denmark's finest may indeed shine again, but perhaps on a festival stage rather than a football pitch this time around.