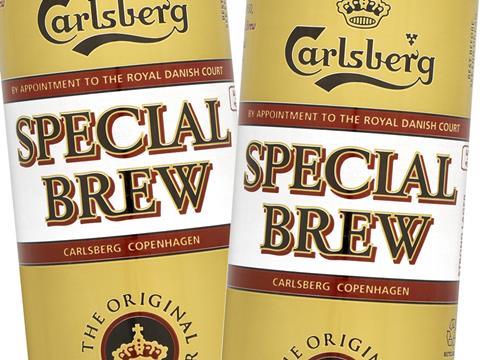 Carlsberg Special Brew is facing radical changes in the face of an industry crackdown on super-strength alcohol.

The beer, which was first brewed by the Danes in 1950 in honour of Winston Churchill, is to have its future decided alongside Carlsberg's other super strength lager, Skol Super, with options including reformulation to a weaker abv or changes to products size.

The brewer has become only the second supplier to sign up to a Responsibility Deal pledge to stop selling any carbonated product containing more than four units of alcohol in a single-serve can, with retailers Asda, the Co-operative Group, Lidl, Morrisons and Tesco already on board.

The Grocer understands both brands will survive in some shape or form, but Carlsberg said it was looking at all options for the portfolio. The 9% abv Special Brew is currently available in 550ml cans, which are in breach of the pledge, as well as 450ml cans and 250ml bottles, which are not.

The Skol Super brand, is currently sold only in 500ml cans and would also breach the pledge, which Carlsberg has promised to honour by the autumn.

"As part of our leadership role within the UK alcoholic beverage industry, which has seen us sign up to 13 pledges to date, we recognise the important role packaging can play alongside other factors in creating a responsible drinking environment," said Carlsberg UK corporate affairs director Bruce Ray. "We will be reviewing our portfolio and withdrawing any single-serve cans containing over four units of alcohol from sale during 2015."

AB InBev was the first supplier to back the plan, masterminded by the Portman Group last July. It has since reduced the size of its 9% Tennent's Super Lager from 500ml to 450ml.