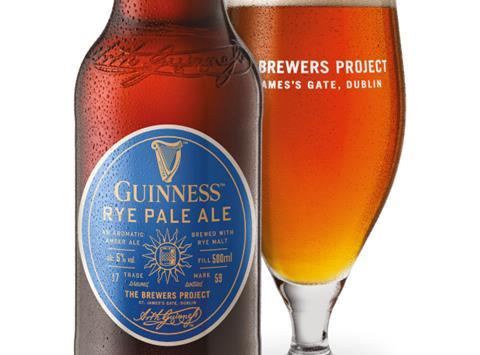 Diageo is extending its Guinness brand with the fifth beer from The Brewers Project.
Guinness Rye Pale Ale, a 5% abv brew, will be rolled out into the off-trade from next week boasting a 'peppery bite with citrus and grapefruit notes' (rsp: £1.99/500ml bottles).
Described as 'perfectly balanced with crystal malt to leave a toasted biscuit flavour', the RPA marks the first launch under The Brewers Project since October last year, when Diageo extended the portfolio with its first lager, Hop House 13.
The latest addition would tap "booming" premium bottled ale sales and generate incremental growth, said Nick Curtis-Davis, head of Guinness innovation for Europe.
"We see this as a great opportunity to further open up the category to new consumers, whilst also providing the opportunity for retailers to tap into the 257 years of brewing heritage of the Guinness brand."
Diageo will be hoping Guinness Rye Pale Ale replicates the success of the existing portfolio, completed by Guinness Golden Ale, Dublin Porter and West Indies Porter, which contributed £5.6m to Guinness' £7.7m growth [Nielsen MAT to 25 April 2016], helping the brand produce an 8.2% uplift in sales to £99.7m.
The newcomer, trialled internally since December, had been getting "rave reviews", said Guinness brewer Peter Simpson, who led the development.
"In December a few of us got together and made Rye Pale Ale as a Christmas gift for our friends and relatives - everyone liked it so much we put it on tap at our Open Gate Brewery Bar and we now want to share it with everyone."