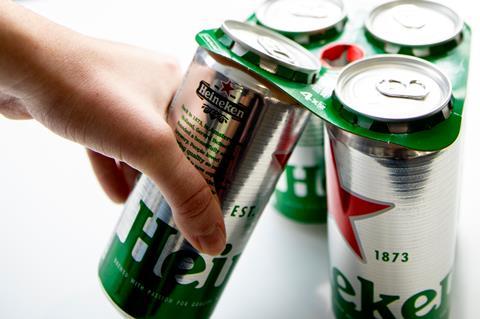 Heineken is ploughing £22m into eliminating plastic from its packaging.
The brewer said today (7 November) it would replace plastic rings and shrink wrap from multipacks of all its brands by 2021, in a move it claims will remove 500 tonnes of plastic per year.
In their place, it will roll out plastic-free toppers made from sustainably sourced cardboard, which is compostable and billed as "robust and easy to grip".
Foster's, Kronenbourg 1664 and Heineken packs will make the switch by April 2020, said Heineken, with the rest of the portfolio to follow by the end of 2021.
The effect of single-use plastics on the environment "can't be ignored", said Heineken UK marketing director Cindy Tervoort. "Creating an eco-friendly solution that eliminates plastic while still meeting the demands of our beer and cider drinkers has been a big focus in our business."
It is the latest in a series of pro-sustainability moves from the brewer over past years, which have included trialling deposit return schemes at festivals where its drinks are sold, and decreasing its CO2 emissions by approximately 68% since 2008.
The news makes Heineken the latest in a string of big brewers, including Diageo, Carlsberg and Budweiser Brewing Group, to annouce a crackdown on plastic in beer packaging.