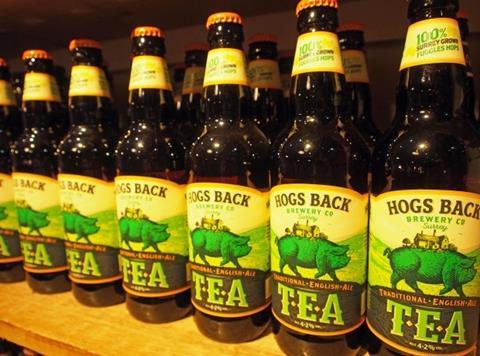 Sussex-based brewery Hogs Back has struck deals with the Co-op, Morrisons, Tesco and Majestic to list its brews in stores across the south east ahead of Christmas.
Its flagship Tongham English Ale has rolled into 320 Co-ops, 39 Morrisons and 19 Tesco Express stores in 500ml bottles at an rsp of £2.17, while the 4.5% abv Hogstar English Craft Lager has launched in to 211 Majestic stores (rsp: £2/330ml).
It follows the relaunch of Tongham English Ale this summer, which saw the beer receive a new label and neck collar playing up its provenance.
The revamp had "certainly helped to win these new listings" said Hogs Back MD Rupert Thompson. "The new label design gives the brand greater impact on the shelf."
Hogstar, meanwhile, was "growing in popularity among drinkers who want a lager with more flavour than offered by standard brands" he said. "These are all retailers with a reputation for stocking interesting, quality beers and supporting local producers, so Hogs Back beers are a perfect fit."