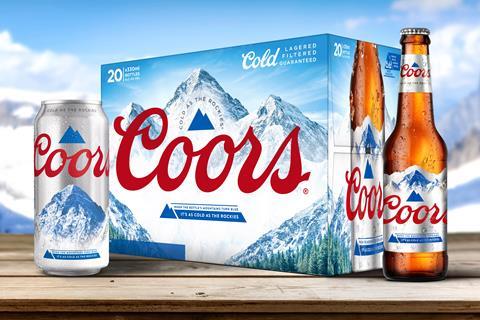 Molson Coors is dropping the 'Lite' from Coors Lite in a multimillion-pound rebrand for the beer.
The brewing giant is set to give its namesake beer a major makeover, with a new look and plans to launch a slew of NPD.
This will include the launch of Coors Original – a "rich, golden lager" currently sold in the US – in the UK next year. The brew is billed has having "a more complex, fuller flavour" and would "grow the brand's presence in the premium segment of the market", said Molson Coors.
The name change would "cement its position as a leading premium-to-mainstream beer", it added, citing data that showed the brand was the UK's sixth-largest lager brand by volume last year [Nielsen 52 w/e 1 January 2020 & CGA 52 w/e 30 November 2019].
"Having reflected on the unique strengths of the brand, we saw an opportunity to maximise its potential," said Coors marketing controller Sophie Jamieson.
"Our ambition is not only to propel Coors into the UK's top five beers, which is why we've put significant spend behind the brand, but also to continue to scale our presence and expand our portfolio."
It's the latest in a series of major moves from Molson Coors, which has been busy reinventing itself as a wider beverage company rather than solely a brewer.
Past months have seen it ink distribution deals with a variety of non-beer brands, such as Bodega Bay Hard Seltzer and Miami Cocktail Company.