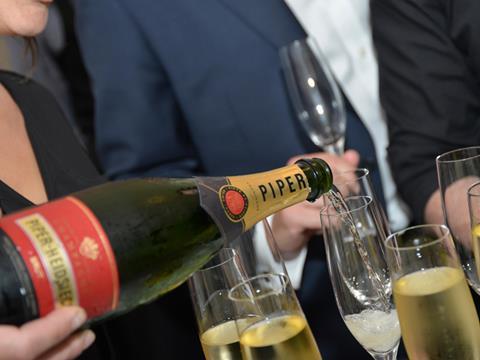 William Grant & Sons has ended its distribution deal with Piper-Heidsieck Champagne as UK sales of posh fizz plummet - marking William Grant's departure from the wine & champagne market.
The time had come for supplier, best known for its Grant's and Glenfiddich whisky brands, to focus on "continuing to build our premium spirits portfolio", said its MD Neil Barker.
The Piper-Heidsieck brand (and its uber-premium 'Rare' sub-brand), meanwhile, have been picked up by Liberty Wines. Liberty MD David Gleave said the two brands "complement our current champagne portfolio, so will greatly strengthen what we can offer our customers".
It comes as retail sales of champagne have tanked, with Brits opting for cheaper proseccos and sparkling wines or ditching wine altogether for gin and cocktails.
As The Grocer's Top Products 2018 report revealed last month, the champagne category has had £16.4m (5.3%) wiped from its value, which fell to £292m, on volumes down 14.5% [Nielsen 52 w/e 8 September 2018].
Over the same period, Piper-Heidsieck dropped in value by £314k (6.2%) to £4.7m, on volumes down 11.8% [Nielsen].
The wine sector's profitability has been hit hard by the weakening of the pound since the 2016 Brexit vote, which is pushing up import costs.
Many major suppliers, including the likes of Accolade UK, Enotria & Coe, Broadland Wineries and Liberty Wines, have taken significant knocks to their profits in their ­latest financials.
William Grant isn't the only business turning away from the ailing wine sector to focus on the more lucrative premium spirits market.
Pernod Ricard told The Grocer last year it had "made the decision to delist" its Jacob's Creek wine brand from "accounts where profitability could not be maintained".