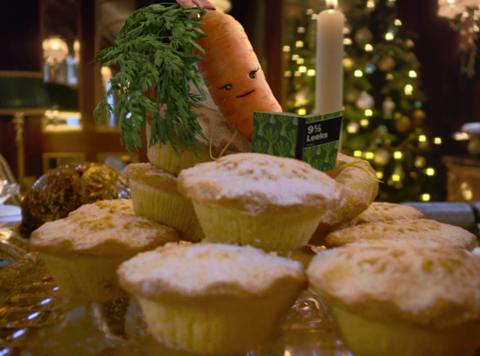 Kevin the Carrot is returning to spearhead Aldi's Christmas sales push.

The character will star in a new festive ad for the discounter, which will air for the first time tonight at 7.15pm on ITV.

The new 60-second ad, which was created by McCann UK, sees Kevin escaping his fate as a Snowman's nose before jumping on a passing train.

In the dining car he spots the carrot of his dreams, Katie, across the far end of a banqueting table featuring a festive feast of Aldi products. These include Aldi Veuve Monsigny Champagne; artisan cheese and a Specially Selected Exquisite Rumburgh Farm whole turkey.

As with last year's campaign, Kevin has to brave the perilous journey across the table - only this time it is in the hope of finding love.

"Bringing back Kevin was always a compelling option as he'd worked so amazingly well last year. We had our best Christmas on record, delivering a 15.1% growth in the UK, with Kevin playing an important part in this success," said Aldi UK marketing director Adam Zavalis.

"This time around we're exploring more of Kevin's character and introducing the love of his life, Katie. Together they'll explore our most incredible festive range ever, ensuring everyone can get everything they need for Christmas at unbeatably low prices."

Kevin and Katie will also feature in 14 product oriented sub-campaigns running as 20 and 30-second TV executions, as well as marketing material across digital, social, outdoor, press, cinema, radio, door drop and in-store.

The TV ads will once again be narrated by actor Jim Broadbent, while the ad features music from the Edward Scissorhands soundtrack.

"It's wonderful to see the return of Kevin, he's become his own Christmas tradition," said McCann UK executive creative director Dave Price.

"This year's story has suspense, murder, romance and the most sumptuous food and drink. All in the most dramatic of settings. Kevin's become a huge star, but he still manages to be down to earth. In fact, he came out of the earth in the first place."

Aldi will be selling Kevin and Katie soft toys in stores from 23 November for £2.99, in support of the Teenage Cancer Trust.