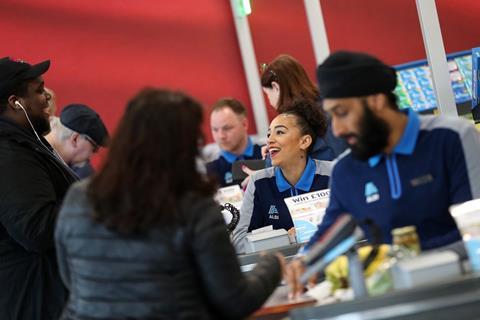 Aldi is making theft checks a routine part of the checkout process as it gets tougher on shoplifting in hard-hit stores.
Some stores are asking customers to put shopping bags on the checkout belt along with their shopping, to show they are empty, or to show till staff the contents of any full shopping bags. Customers who do not consent are refused service.
An Aldi shopworker told The Grocer the policy was introduced at their store last week, and the checks were separate to any carried out by security guards.
"We are asking that they allow us to look in the bags to see they are empty," the shopworker said. If a bag is not empty, "we have been asking to look in the bags to make sure none of our items are in there".
"We have also been told that if anyone refuses to show us, we are to refuse the sale, although this has not happened yet in our store."
The store worker said it was "an extra check to help as a whole" and people walking out may also be stopped by security if suspected of theft.
The latest measures came to light on an Aldi shoppers' Facebook group, in a new thread this week including comments from members who said they worked for the discounter.
"New policy at Aldi, all empty shopping bags must be on the belt plus all shopping," wrote one, adding it "came in force" last week.
Another wrote: "I work for Aldi too. It's an awful feeling having to ask customers."
The move has divided opinion among shoppers in the Facebook group, with some slamming it as a step too far while others view it as a reasonable measure in light of high shoplifting rates. "Why are people so het up about this?" said one. "Shoplifting is rife and Aldi has to protect itself. If it doesn't, we all will pay higher prices."
Aldi is one of a number of retailers to have introduced new checks in stores in recent months as shoplifting rates soar in the cost of living crisis.
It is understood the checks at Aldi are only carried out in some stores and as a short-term measure. As the checks are not national policy for the retailer, it does not stipulate how individual stores carry them out.
Co-op Food MD Matt Hood this week blamed a growing sense that shoplifting is justified in the cost of living crisis on accusations of profiteering levelled at retailers by politicians. "I was reading some of the comments when we've spoken about shoplifting being on the rise and people were saying 'well, they are making so much money, so what difference does it make?'" he told the Telegraph.
It came days after the Co-op reported record shoplifting rates, having logged more than 175,000 incidents of retail crime, shoplifting and antisocial behaviour in the six months to June, a 35% year-on-year increase.