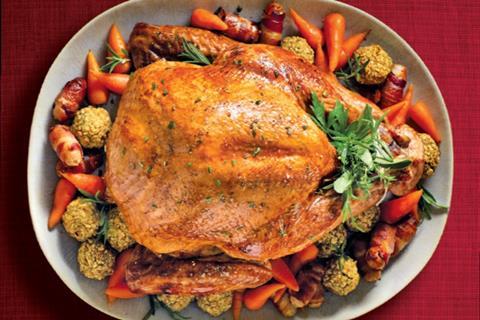 Aldi is claiming to offer the cheapest fresh turkey in Britain this Christmas with its lowest-ever price of £2.89 per kg.
The discounter today slashed its cheapest fresh turkey price of £2.95 per kg – announced only yesterday – by a further six pence ahead of it going on sale tomorrow.
Aldi's latest price cut comes after Morrisons yesterday said its Fresh Whole British turkey, also due to arrive in stores, would cost £3 per kg, down from last year's £4.
Aldi is also claiming to have the cheapest frozen turkey in Britain. Its frozen Oakhurst Small Whole British Turkey costs £8.99. The supermarket has not provided a price per kg but claims it will feed a family of seven.
Aldi's Fresh British Whole Turkey is the cheapest per kg in a Red Tractor-assured range that also includes its Exquisite Hand Finished Chesham Bronze Turkey at £8.99 per kg.
The lower prices come despite farmers warning earlier in the year of tighter supplies of eggs from heatwave-struck France.
The sector has also faced a lack of labour, with many smaller farms struggling to attract enough staff.
Turkey prices paid by some independent butchers and foodservice operators were as much as 20% higher than last year, The Grocer reported earlier this month.
However, analysis of Christmas dinner prices by The Grocer last week found most of the increase had not been passed on to consumers. BPC CEO Richard Griffiths stressed most of the mults agreed long-term contracts at the start of the year.
A medium own-label frozen turkey crown in the mults (2kg-2.5kg) costs £15.20 on average, up 0.7% year on year [Edge by Ascential 52 w/e 10 December].