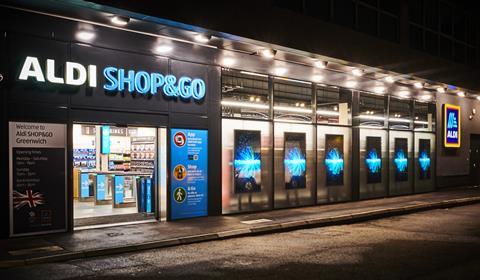 Aldi has become the first discounter to offer 'just walk out' shopping, with the opening today of a checkout-free store in Greenwich, London.
The Aldi Shop & Go concept store in Greenwich High Street opened this morning "for public testing", having been tested by Aldi colleagues over recent months.
The retailer joins Amazon, Tesco and Sainsbury's in using in-store cameras and artificial intelligence to identify the products customers take from shelves, so they can shop without scanning and leave without going to a checkout.
"For us, steps like this are always about improving the customer experience and the whole team are looking forward to being on-hand and ready to help to ensure that experience is as smooth as ever," said Lewis Esparon, store manager.
To use the store, customers must download the Aldi Shop & Go app, which enables them to enter the store, pick items, and walk out when they have completed their shop. Once a customer leaves the store they will then be automatically charged for their shopping via their selected payment method and a receipt will appear in the app.
Customers wishing to buy alcohol, or other Challenge 25-restricted products, will need to use "facial age estimation technology" provided by Yoti to authorise the purchase. The process requires customers to take a photo of themselves in the app. The image is then checked by AI before being deleted. Those who opt to not use the system will instead be age verified by a store colleague.
Giles Hurley, CEO of Aldi UK and Ireland, said today's opening was "the culmination of months of work" and that he was "looking forward to seeing how customers react".
"This store utilises the very latest in retail technology offering Aldi's award-winning products and unbeatable prices to customers in a new and innovative way," said Hurley. "The team are really excited about seeing customers come in and experience Aldi Shop&Go."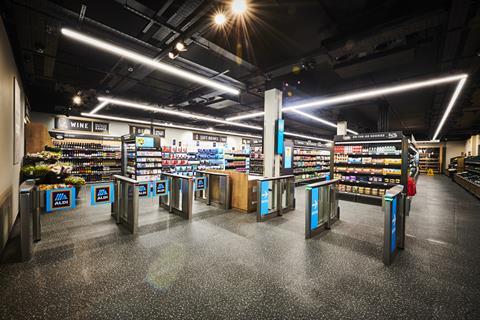 The concept store is powered by technology from Aifi, which is behind several 'just walk out' stores around the world, operated by supermarkets including Albert Heijn in the Netherlands, Zabka in Poland and Carrefour in Dubai. It is understood to be Aifi's first public store in the UK, with Tesco using technology from Trigo, and Sainsbury's and Amazon using Amazon's own system.
Aldi first confirmed the checkout-free store was on the way in September last year, but did not confirm an opening date.
The Aldi Shop&Go launch follows Tesco's opening in October of its 'GetGo' store in London's High Holborn, which also enables shoppers to simply pick up products and walk out.
Sainsbury's followed suit in November with the launch of a 'Smartshop Pick & Go' store in Holborn Circus, London. Morrisons is trialling a similar concept at its headquarters in Bradford, so far open only to staff.
Each is following in the footsteps of Amazon, which has opened 15 checkout-free stores in London, the first in Ealing last March. It is aiming to have opened 260 Amazon Fresh UK stores by 2025, and has recruited a former Lidl head of property and store acquisition experts from Aldi and Tesco to oversee the ambition.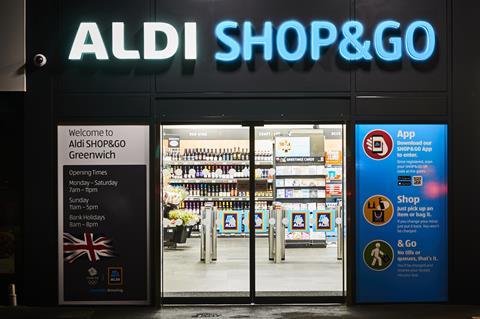 The Grocer revealed last July Lidl was also working on a checkout-free app, called Lidl Go, which relies on shoppers scanning products with their phones. CEO Christian Härtnagel said in November it would only be launched "once we're convinced it really works for our customers as well as for our business".