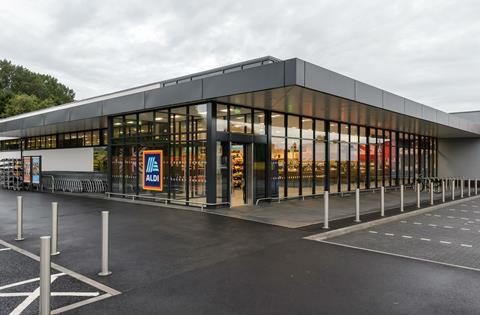 Aldi has added scales at checkouts so customers can buy a new range of fresh fruit & veg by weight rather than number of units.
Tills with a weighing function have been introduced alongside 13 new loose fruit & veg lines in a trial across 77 stores in the north east of England.
It means the new lines, including bananas, bramley apples, carrots, sprouts, mushrooms and leeks, can be priced per kilo.
Aldi began selling a number of loose fruit & veg lines early last year. A trial across five fruit & and veg lines that launched in Scotland was rolled out to England last June.
The discounter also launched reusable bags for loose fresh produce last November as part of its drive to cut down on plastic.
However, until now all the lines have been priced per item.
The 13 lines now priced by weight also include butternut squash, ginger, parsnips, brown onions, baking potatoes, sweet potatoes and small new potatoes.
The weighing is done by the checkout assistant. The prices have been benchmarked to ensure what Aldi claimed was the lowest everyday prices per kilo in the market.
Aldi is aiming to halve the amount of plastic packaging it sells by 2025 and make all own-label packaging recyclable, reusable or compostable by 2022.