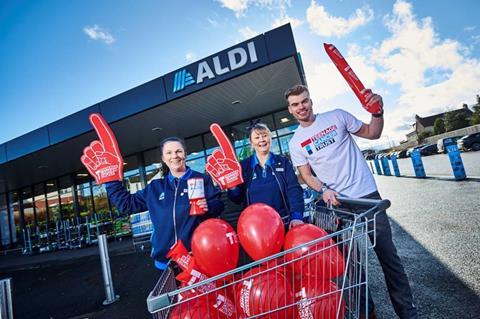 Aldi is promising to round up customers' shopping receipts to the nearest pound and donate the difference to the Teenage Cancer Trust.
To take advantage of the offer, shoppers must tweet their Aldi receipt to @AldiUK by this Friday (24 July). The discounter is challenging customers to raise £10,000.
The supermarket has also announced a five-year extension of its partnership with the Teenage Cancer Trust, pledging its donations will have reached £10m by 2027. An existing £5m funding target had been hit more than 18 months ahead of schedule, with £5.1m raised since 2017, Aldi said. The new pledge would see another £5m raised.
So far the money had paid for 30 specialist nurses, 15 youth support co-ordinators and four multi-disciplinary team co-ordinators, who help ensure young people receive the right specialist support wherever they are in the country, Aldi said.
Employee activities to raise the money included raffles, cyclathons, half marathon participation and sponsored skydives.
"The importance of what Teenage Cancer Trust does can't be overestimated and I'm immensely proud of the lengths colleagues have gone to across the country to support them," said Fritz Walleczek, Aldi UK MD of corporate responsibility.
"There are few ordeals harder than coping with cancer, particularly for those affected by it so early on in life. The care and guidance Teenage Cancer Trust provides young people who are in such a difficult situation is invaluable and we're all looking forward to continuing to support them as they carry on this vital work."
Teenage Cancer Trust CEO Kate Collins said: "Aldi are a phenomenal partner to Teenage Cancer Trust. To reach our fundraising target of £5m in just three years is an incredible achievement and will make a lasting difference to the lives of young people with cancer. None of this would have been possible without Aldi staff going the extra mile – their commitment and enthusiasm is exceptional and we love working with them.
"I couldn't be more delighted that Teenage Cancer Trust is extending our partnership with Aldi for a further five years; we can't thank them enough. They are partners in every sense of the word, and together we will make sure young people don't face cancer alone."