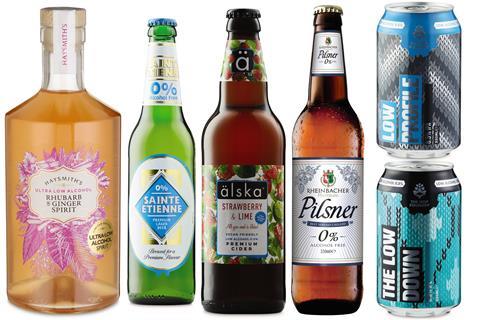 Aldi has bolstered its low & non-alcoholic drinks range with a slew of NPD for Dry January.
It has launched six new drinks, spanning beers, ciders and spirits, all of which hit stores this week.
The range includes two 0% lagers: Sainte Etienne (rsp: 89p/500ml) and Rehinbacher (rsp: £2.49/6x330ml), and two 0.5% craft beers: Low Profile Craft IPL and Low Down Craft IPA (rsp: 99p/330ml).
Aldi has also rolled out an "alcohol-free gin", called Haysmith's Non-Alcoholic Rhubarb & Ginger, which combines rhubarb with the "delicate warmth and spicy finish" of ginger.
It said the drink, priced at £9.99, was more than 50% cheaper than a bottle of Seedlip Spice 94, which at the time of writing was retailing at £26 in Tesco.
Completing the new drinks lineup is a new 0.5% Alska Strawberry & Lime cider (rsp: 85p/500ml).
Aldi said its new drinks provide "something for everyone", and its low & no craft beers could "rival that of top artisan breweries".
Almost half of the nations drinkers were considering Dry Janaury this year, it said, citing its November 2020 research Aldi De-bunking Booze Myths.
Willam Reed – the publisher of The Grocer – has launched an exhibition exclusively for the low and non-alcoholic drinks sector. For more information visit low2nobev.com