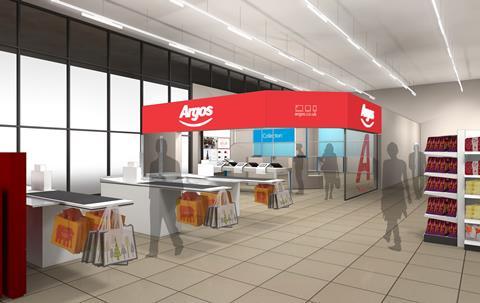 Sainsbury's has signed up Argos to open 10 of the general merchandise retailer's digital stores within its supermarkets by the summer. John Walden, chief executive of Argos owner Home Retail Group, said the company's new distribution model enabled Argos to provide customers in any of its locations with a choice of about 20,000 lines within hours, regardless of the size or stocking capacity of the store. "This strategic capability has opened up options for a variety of new Argos stores and formats, and the possibility that we can now cost-effectively reach more customers and neighbourhoods with an Argos presence," he said.
Mike Coupe, Sainsbury's chief executive, said the 10 Argos stores would complement the supermarket offer, giving customers the opportunity to shop for an extended range of non-food items. "They will bring something new and different to our customers, and fit well with our strategy of making our supermarkets more convenient. As well as looking at carefully selected partners, we continue to roll out our ranges of own brand clothing and general merchandise in our supermarkets to give customers even more choice and value," he said. The goods will be available to buy instantly on tablets or reserved online for collection, and an extended range of about 40,000 products will be available to order in stores for home delivery.
The tie-up could potentially be extended to the 25% of Sainsbury's outlets deemed to have excess space, as identified in the company's strategic review in November. The partnership will give customers a choice of more than 20,000 non-grocery products in units that will range in size from 1,000-5,000 sq ft in Sainsbury's outlets ranging from 30,000-100,000 sq ft.
Argos already operates in about 20 HomeBase stores, a business Sainsbury's owned up until 15 years ago.
The exact store locations are expected to be confirmed over the coming months, and a Sainsbury's spokeswoman said customers' reactions would be gauged before future plans were considered. Sainsbury's already operates other in-store concessions, including Jessops, Timpson, Centre for Dentistry and Johnsons Dry Cleaners.