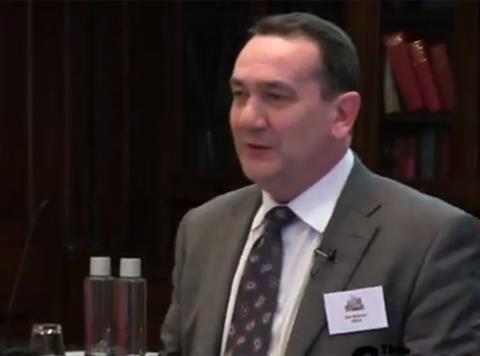 Asda brand director Adrian Mckeon is leaving the retailer of his own accord as it completes a structural review of the business.
Mckeon has been with the retailer since 2010 and will leave at the end of April.
The remit of his role will be split between chief merchandising officer Barry Williams and chief marketing officer Steve Smith, who will now take on the title of chief customer officer. The Asda food brand will effectively be split into two, with Smith in charge of packaging and marketing alongside marketing director Chris McDonough, and Williams controlling NPD in a move Asda said would "improve the link between food quality and pricing".
Mckeon said today he had been involved in the decision to implement the new structure at Asda and had made a "personal decision" to leave.
"I firmly believe that this approach is the best way to continue driving our quality agenda forward in our quest to redefine value retailing in the UK," he said. "I have thoroughly enjoyed my four years with the business and wish my many friends and colleagues well for the future."
Steve Smith added: "Ade McKeon has been instrumental in the development of a deconstructed approach to Asda Brand that will ensure we can move with agility and pace. We will work together on its transition during April. Ade has been a very important part of my leadership team, bringing a strong commercial and trading perspective to my board table and I wish him all the success for his future career."
Restructuring
Britain's second biggest supermarket announced 202 redundancies today across Asda House in Leeds and the George headquarters in Leicestershire. The job cuts amount to 5.1% of staff at both sites.
Among the other senior team departures is executive property director Karen Hubbard, who was responsible for the retailer's integration of Netto stores acquired in 2010/11. Hubbard's role will be split between chief financial officer Alex Russo – who will handle estates and acquisitions, construction, and market evaluation – and Steve Smith – who will manage large formats, small formats, macro space, and store planning.
"We need to have an organisation structure where accountabilities are clear, duplication is removed, and decision making is swift and decisive"

Andy Clarke
The final changes to the executive board will see George CMO Andrew Moore adding accountability for strategy delivery and the Programme Management Office (PMO) to his remit and retail director Mark Ibbotson taking charge of supply with the new title of chief operations officer.
"In order to deliver our strategy we need to have an organisation structure where accountabilities are clear, duplication is removed, and decision making is swift and decisive," said Asda boss Andy Clarke. "These changes, which take effect from Monday 7 April, will ensure we are a business fit for the future and will allow us to retain and increase our focus on the customer and sales at the same time as improving our ability to make decisions at speed and act at pace."
Asda is set to add 500,000 sq ft of new space (compared to 350,000 sq ft in 2013) over the next 12 months, targeting locations in London and the South East. But despite Hubbard's exit, Clarke insisted that Asda wouldn't be dropping out of the space race anytime soon, and that the senior changes would ensure the retailer was more strategic around property decisions.
"The movement of the property accountabilities across to Finance will allow us to put more emphasis on property pipeline management and will allow us to also apply strong financial planning to future site selection and acquisition decisions," Clarke said. "A close tie between Finance and Property will become increasingly more important in ensuring that newly acquired sites drive the right levels of footfall required to justify the investment."
An Asda spokesman added that due to the "fast-moving nature" of British retail, the retailer would not rule out any further job losses in the future, but insisted that the "senior changes to help deliver Asda's five-year strategy", as outlined in November, had now been completed.
Read Andy Clarke's full memo to Asda staff on the restructuring.
This article was updated at 19.00 on 25 March with comments from Adrian Mckeon and Steve Smith.