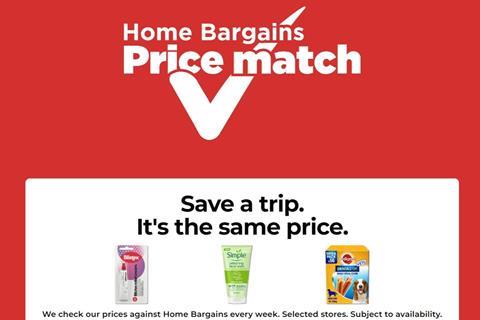 Asda has pulled the plug on its Home Bargains price match campaign as it re-evaluates the proposition.
A page on Asda's website, which previously listed more than 100 products included in the campaign and the date on which the price was checked against Home Bargains, now redirects to a navigation page for Asda's departments.
Asda said it had paused the price match mechanic while it looked at the performance of the lines included and the proposition as a whole.
Asda was believed to be the first supermarket to price-match a variety discounter when it launched the campaign in May last year. The products included were mostly non-food, including branded items such as Sure deodorant, Surf washing powder and Huggies nappies.
"We're always listening to customers to ensure we're offering them the best possible value and offers – and have paused the Home Bargains price match mechanic whilst we review its impact," said an Asda spokesman.
"That aside, in recent months, we have invested over £40m to reduce the prices on more than 600 popular products that our customers buy week in, week out. This is in on top of the regular investment to maintain our position as the lowest-priced traditional supermarket and deliver additional value through our Asda Rewards loyalty app."
Speaking to The Grocer in June, Asda chief commercial officer Kris Comerford indicated a review of the Home Bargains price match campaign was on the way, saying it was "in my notepad of things to do".
"It probably needs a bit of a review," he said at the time. "It is a little anomalous, versus the total organisation."
The launch last May was followed later the same month by the arrival on shelves of Asda's Just Essentials range, which has since become a driver of sales growth for the supermarket. In its latest trading update, covering the quarter to 30 June this year, Asda reported a 9.6% increase in like-for-like sales, with Just Essentials sales up 87%. More than 22 million customers had bought Just Essentials since its launch, making it the number one value range in the market, with a 20.2% share, Asda said in the update.
The success of Just Essentials, and the likely pressure on margins, was seen as a possible reason for Asda trimming 8% of products from the range earlier this year, taking the number from 293 to 269.