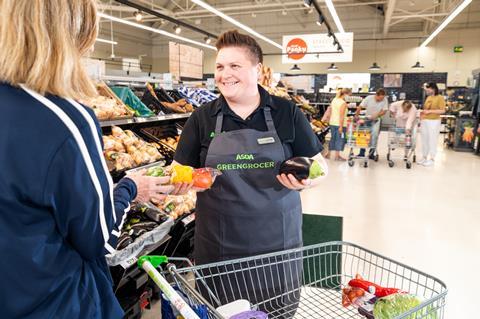 Asda is appointing 150 new specialist roles in stores across the country as part of its strategy to offer more fresh fruit & vegetables.
The new 'greengrocers' will focus specifically on the supermarket's fresh produce offer and oversee quality standards, stock availability and presentation of the fresh section.
The move is part of the company's £9m investment to increase the choice and quality of fresh produce in store.
"The fresh produce section is one of the most popular locations in our stores and more than half of our bestselling lines by volume are generated from this area," said Asda fresh produce MD Mike Snell.
"We know how proud our colleagues are about product quality and store standards and we are making this investment to enhance the experience our customers receive when shopping for fresh fruit & vegetables."
Each greengrocer will receive specialist training regarding Asda's fresh produce operations and all aspects of the supply chain, from farm to shelf.
They will also be trained on how to store and display fresh produce in order to maintain maximum quality and freshness.
The roles are set to be filled by both existing colleagues and new hires, Asda said, and will initially cover 150 stores across the country from October.
The grocer is also ramping up investment to offer customers a wider variety of its Extra Special fruit and vegetables range. It has introduced new fixtures and fittings in a bid to improve the presentation and layout of the fresh produce section.
In January last year, Asda announced 150 meat and fish counters were being replaced with a new food-for-now proposition.