It's an extraordinary time in grocery, isn't it? Why is this happening now? The industry had a lot of momentum [going into the recession]. It took a long time for [the fortunes of some] businesses to catch up with consumers.
But there are green shoots in every other market in retail. Why not grocery? Are you saying the supermarket strategies of the past few years are starting to unwind? You've got to annualise whatever you do in one year. You're not going to see the true impact until your second year of change.
I was thinking back to the article The Grocer wrote on the New Generals. It was a moment in time where the leadership of almost all the supermarkets changed hands. And here we are four years on and a number of suits have changed or are going to change again. It's a bit like government: unless you get your manifesto right and you execute it [right] there's going to be somebody else running the country or the company and it feels a bit like that right now.
So, have you got your manifesto right? We're doing well. We're executing what we said we'd do. We didn't chuck a lot of money into capital space. We pulled out of the space race four years ago and we're reaping the benefits. We've not got a huge profit writedown or pipeline cost writedown others have seen. We also came out of the gimmicky promotional schemes last year. We're out of it – we're clean.
"There isn't a new price war; everything's always a price war. I don't know why it's been hyped up as a price war"
That was a very clear strategic decision. Together with the price investments we made in core commodities was painful and affected sales comp growth, but once you've annualised it you're through it. All those big decisions we took a year ago were challenging, but still we held our own and now we are in a stronger position. If you drop your milk from £1.36 to £1, which one of our competitors has, to match us, that's going to be painful now and for the next year – both on the bottom and the top line.
So how do you view the new price war? There isn't a new price war; everything's always a price war. I don't know why it's been hyped up as a price war.
Surely when retailers start coming out with profit writedowns, and the can offer no future guidance on margin, and share prices tumble on the back of it, that's a price war? But that might be driven by strategic decisions a retailer made in the past and realising that the battle ground they were fighting on was the wrong one for customers.
One analyst has described the grocery sector as uninvestable. Is the situation going to get worse. Can you see an end to this? It's going to be another tough year, isn't it? And there will definitely be winners and losers. As we've seen in other years more businesses will go into administration. This still will be an issue in 2014, whether it's in grocery or other markets.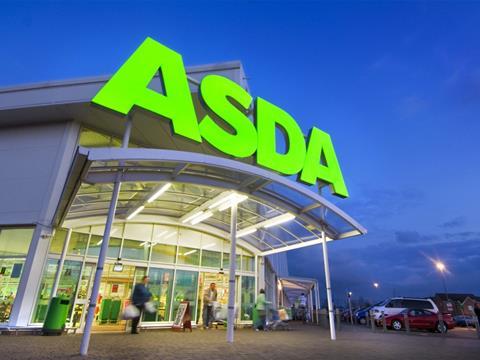 So why are people talking about a High Street recovery? Some of that's driven out of a very clear recovery in London and the South East. The North-South divide is wider than ever. People in the North East have 50% less disposable income than those in the South East. South Wales is another big challenging area, Northern Ireland is even worse than the North East, and the North West is challenged too.
With food inflation finally coming down, shouldn't the prospects for the consumer be looking up? Some of the challenges consumers face are outside retail, like energy costs. The only thing that's going to help – where grocery is playing a part – is that the big food retailers have all realised price is important. Inflation is at the lowest level we've seen for a long time. Whether it's sustainable or not is another matter.
It was interesting listening to [Tesco CEO] Philip Clarke talking about the fact that promotions are too complicated, the need to adopt an EDLP approach, the removal of some of the gimmicks that have been around the industry and the investment in price. That is what we do at Asda. This is our business. And he's not on his own in following our lead – Dalton [Philips] did it from a different position, didn't he, because the results he shared were shocking for a lot of people.
Everyone's taking about Dalton Philips being under huge pressure, Philip Clarke being under huge pressure, even Mike Coupe being under huge pressure – and he isn't even in the hot seat yet. Asda's different though. It's not a plc like the others. How much pressure are you under? As a chief executive, you're always under pressure. But clearly if your numbers are good – as we know ours to be – then it's going to be a little easier than if your numbers are bad.
So the restructure wasn't just about saving money? No. As an EDLC operator, efficiency is obviously important. But what happens in a business like ours is that you incrementally develop new channels and through no fault of anyone in particular you build complexity and put mezzanine structures in place so you run them independently. As you move closer to maturity, however, the opportunity is there to develop a closer affinity between those new channels and the core business. So rather than two people doing the same task, you want one person doing that task across all channels. And yes you drive efficiency but it's driven from a strategic route rather than a technology route.
For example, Gavin Chappell, who I think is the best supply director in the UK, as well as retaining supply, is taking on the operational and strategic management of our grocery home shopping business. We believe, as click and collect grows, that the management of fulfilment is a strategic advantage, so the connectivity of online and offline is in itself a strategic move.
And we expect to create the 12,000 new roles as we expand into areas like the South East and London.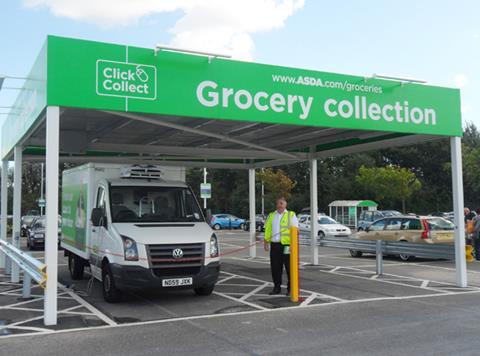 What's been the reaction at Asda House? I think people have been broadly speaking supportive. We are a legacy business. We needed to remove duplication to make us more efficient: many products or channels had their own marketing teams [Asda Money, Grocery Home Shopping, marketing activity planners in general merchandise, etc].
They are now built into the overall marketing function and will get better quality and integration by being part of the machine, with deeper marketing expertise and the full resources of the business rather than going it alone in a smaller silo. And through that we need less people but can do better work [we believe]. Another example of overlap was in our general merchandise business, with different buyers and planners working on the same categories for Asda direct vs Asda in-store.This worked to get the business launched with the attention it needed, but now that multichannel is the commitment, we need one set of buyers to flex their capability on and off line. It's logical, efficient and effective.
And both of those examples give more opportunity to our colleagues in their professional development, flexing and learning skills across categories or across channels. I've also streamlined the board so I can be confident we are focused on what's important for us and our customers. It's been a top to bottom review. And that then filters down right through the organisation.
Someone posted a comment on our website that says: "letting staff go is short-sighted unless the layoffs have been prompted by a more efficient use of technology or a change in the market." How would you classify the drivers of your restructure? It's about a change in our focus. The growth of our online businesses, the change in emphasis we're placing on formats and in driving efficiency. However, technology is enabling our ambitions and there are some really clear examples of this: enabling the core through the Asda app; enabling easier in-store shopping with planning tools; click & collect driving traffic to the existing box; retail technology in the form of hybrid tills helping throughput at checkout and improving speed through store; store managers kitted out with iPads so our GSMs are on the shop floor not stuck in the office; improving access and entering new markets.
Grocery home shopping, our award winning Asda app, click & collect are all low-capital ways to expand physical reach of Asda products, and they allow us to home deliver or offer convenient store pickup for free - something an ecommerce pure play simply cannot do. And it's actually more convenient for a customer [to pick up on their schedule vs waiting at home for DPD or UPS to deliver].
The restructure doesn't just remove duplication, though. It has a huge positive impact on the core business by enabling faster decision making, through clear accountabilities. Having all GM and food buyers thinking about online and offline assortment and presentation means we have faster capture of trends, better buying efficiencies, more ability to experiment with products, and integrating marketing means an always cohesive customer offer, with the right products at the right time in the right media.
Looking at the restructure, I see you have reverted to having property as part of the finance function, as it was before. What does that tell us about your space plans? Whilst [ex-CFO] Judith [McKenna] was here I moved property and construction out of her portfolio and that allowed us to bring Karen Hubbard [on to the board] at a time when we were being more focused on our property portfolio. But there's just such obvious correlations financially in terms of return. What's different this time, however, is that the customer proposition, the macro management of space, has moved to the new [chief customer officer] role we've created for Steve [Smith]. He is in charge of the total customer proposition, how we lay our stores out as much as how we market them.
It's quite a radical step to give marketing responsibility for formats. What's the thinking behind it? We've not done it at Asda but it's not altogether unusual to have joint responsibility for merchandising and marketing. Having one person responsible for the customer ensures we have greater levels of alignment around the board table.
"Having one person responsible for the customer ensures we have greater levels of alignment around the board table"
[Chief merchandising officer] Barry [Williams] sets the prices; Steve [Smith] is measuring it. If we are out of line in any particular category, then Steve's challenging Barry to make sure we're protecting the customer and it's Barry's job to respond appropriately.
So what benefits of it will we see? We'll see in a year's time what value it has, but clearly we believe having one person take charge of that part will give us an advantage. It's eminently logical to have one person as the voice of the customer. All customer insights – market share data, data analysis, pricing, customer call centre, all our customer knowledge – is coming into Steve's team. We then convert that into business strategy that the different departments can execute.
In retail everything is so siloed: food, concessions, GM. Who's actually looking at what the right format is, the right level of space for each department, store by store. The data and the tools need to be completely objective.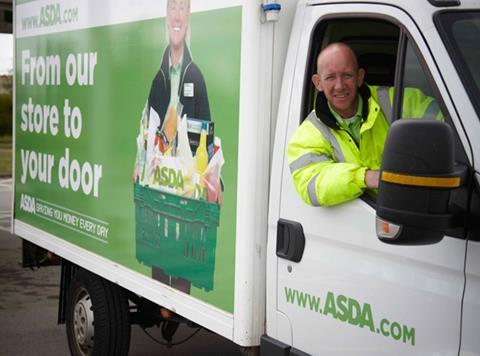 How much influence have the discounters had on your thinking? And what are you doing to counter them? Yes, you're going to learn from others and sometimes we copy shamelessly, but we've always been a lean organisation – EDLC, lowest cost to operate etc has always been in our DNA.
"The volume of leakage [to the discounters] we've seen last year to this year is reducing, and that's because the price gap is closing"
Have we taken an opportunity to think well OK, if you've got a stock space that's 8,000 square feet and stocks 2,000 skus, are there points of learning in there? Yes. But that's no different from five years ago, and we continue to learn as much from [Walmart's discount business in] Mexico and some of the [discount and convenience] formats elsewhere [in the Walmart organisation] as we have from the discounters here.
That's one of the reasons why we have an advantage: our ability to compete against the discounters is easier than it would be if you were one of the other three: for those businesses to get close to the discounters the investment in value would have to be significant – I can't imagine what it would do to their P&L's in one year, you can't do this in one year. For us, it's been a 20-year journey. That's why we've won The Grocer 33 pricing award for the last 17 years.
You can't be both EDLP and high-low. That's going to kill you.
I don't see how you can be entirely complacent though. Like the discounters your EDLP strategy is still driving deflation into the category, but they're growing like crazy, while you're struggling to stand still. The whole market is [losing share]. The share gain from the discount sector is affecting us all. But the volume of leakage we've seen last year to this year is reducing, and that's because the price gap is closing.We've halved the gap in a year and it keeps coming down.
Also, some of their growth is about space annualisation. That's flattered the discounters somewhat: Aldi rightly chucked a load of money at space and they're growing at tremendous levels – and they've done a great job – but a lot of their growth is second- and third-year growth rather than core growth.
You've reduced the gap to 10%. So will this restructure achieve parity? Is that the aim? I don't think parity is necessarily what we want, or that we would want to match the discounters on every line. The discounters offer around 2,000 private brand skus. We have matched them on a number of them, and are within 5% on a big proportion of others.
But Asda also offers a different shopping experience, with higher levels of service and breadth of offer. Do you think the shopping experience is as important as it used to be? The success of the discounters suggests many shoppers are fed up of walking down endless lanes, and want not only to save time, but avoid the temptation to fill their baskets with bargains they either don't need or can't really afford.
"The discounters offer around 2,000 private brand skus. We have matched them on a number of them, and are within 5% on a big proportion of others"
Do you think there is still a need for hypermarkets? I've said it on the record a number of times before that supercentre/hypermarkets are more challenged now than the small supermarkets, but we have been consciously not opening superstores and hypermarkets for four years now, while our supermarkets are in double-digit growth.
You may not be opening them, but you've still got them. Well yes. We've got 27 of those stores. How many Tesco Extras are there? 200? That must be a challenge for them right now.
Philip Clarke still predicts a bright future for hypermarkets. In fact he declared 2014 the year of the hypermarket. What do you make of Tesco's efforts to reinvent the hypermarket? We're all trying different things aren't we, whether it's Tesco Watford and having a Giraffe restaurant beside it or [installing] play areas or what have you. There will still be a place for [the hypermarket] and the businesses that reinvent that format fastest will protect it. It'll be about [identifying] the right shopping missions and giving people the right reason to go.
We've heard precious little about the Asda hypermarket strategy? What is your vision? Does it involve bells and whistles like bakeries, restaurants, nail bars etc? Well, that's what we're doing now. We've taken Nick Jones, one of our brightest directors, away from his day job and he is leading a project on large stores. We will land a number of remodelled large stores in the next 18 months, and we expect to open around 40 new superstores before 2018.
Similarly with our small supermarkets, I've pulled another director, Craig Bonnar, out of his day job, to lead the small store work stream. He's also responsible for developing the petrol forecourt, where we've got two stores and both are doing well and we'll open a number of additional sites this year in that format, so it's an exciting opportunity for us to enter markets where we don't usually trade.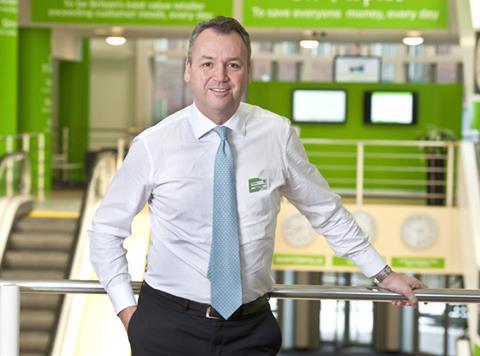 What's taking you so long to update the stores? Tesco have been a ball of energy. We have been developing formats, we've just not made a lot of noise about it. Our Old Kent Road store we remodelled at the back end of last year, we put a Subway restaurant in to see what benefit it would have, it's on the high street and we increased the square footage of George and trebled the size of the baby offer and moved food to go to the foyer. And the store is doing well.
"We have been developing [superstore] formats, we've just not made a lot of noise about it"
When we launch the next generation of stores this year, again we won't make a big splash about it as we're not trying to deflect an issue from somewhere else. But I'm happy to talk about it. Next year our plan is to extract the learnings from the stores we have trialled and roll out the appropriate concepts.
It's interesting that you're looking again at your supermarkets because of course it's not that long since you converted them. Why do you need to revisit them so soon after the Netto acquisition? We went from 22 to 200 supermarkets in a very short space of time, with at least 100 more projected in the next four years. They are performing really well, with double-digit growth. But the growth of click & collect is driving a different opportunity, so the fact you can collect your parcels from an Asda store is something we want to make sure we get the benefit from.
So ranging and merchandising is the key exercise of [our] supermarkets [review], rather than in the superstores where it's more about fundamental macro space allocation.