It all began with her "terrifying" but triumphant appearance on Masterchef. Now with a new campaign and a fast-growing business empire, is Thomasina Miers the new Jamie?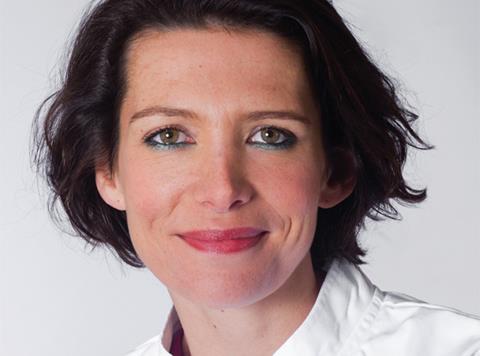 When Thomasina Miers saw an ad in a newspaper in 2005 calling for contestants willing to take part in a radically revamped version of the 1990s TV programme Masterchef, she filled out an application form not knowing what to expect.

Although Miers vaguely recalled the programme's original incarnation from her childhood, which featured middle Englanders serving up insipid looking dishes that reflected the nation's pallid palate at that time, the programme's producers promised to deliver a revolutionary new format, supervised by hosts John Torode and Greg Wallace, to reflect the nation's growing thirst for culinary adventure.

"I remember rocking up on the first day in the studio thinking it was all a bit of joke," says Miers. "But when I was asked to do the first task for John and Gregg, I suddenly realised that I'd got myself in a terrible position and that the cameras were recording everything I did."

Miers found the experience "terrifying" but it was transformative. Winning the series set in motion a chain of events that has seen her publish cook books, present TV programmes and launch the highly successful Wahaca restaurant chain - and, since the start of the year, an associated range of spicy Mexican sauces.

A new cook book is out this month, and the finishing touches are being put to a radical new restaurant space housed in shipping containers at the Southbank Centre, in time for the Olympics. Miers is also about to unleash a major new food waste campaign on the nation, while expansion of her growing Wahaca chain of sustainable cantina-style restaurants in London, into a national concern, remains "a possibility".

It's been an unconventional journey to say the least. For most professional chefs, there's a well-trodden and laborious career path. After discovering a love for food at an early age, a spell at catering college usually leads to a first job in a restaurant carrying out menial tasks. It then takes years of blood, sweat and tears until the lucky ones are anointed head chef. Miers' journey couldn't have veered further from this path.

Despite developing a love for food at an early age - her mother taught her to cook white sauces aged seven and in her teens she was making extra pocket money cooking for guests at her parents' dinner parties - Miers looked set for a high-flying career in the City until an intervention from an unlikely source.
"There's a strong Tex Mex offer in supermarkets but I wouldn't say it's very Mexican"
"When I was about 26 I had a chance meeting with Clarissa Dickson Wright," recalls Miers. "I was very unhappy at the time because I hadn't discovered what I was going to do for a living yet, so Clarissa had a little pep talk with me and said, 'what do you really love doing?' I said 'I love cooking' so she replied, 'why on earth are you not working in food then?' So she sent me off to a cookery school where I learnt a lot."

After leaving the school, Miers blazed through a series of food-related jobs. She worked on a cheese farm, managed a London deli and made her own sourdough bread that she sold at markets, but she still wasn't 100% sure what kind of career in food she wanted. The only certainty in her life at this stage was that she needed to satisfy a growing urge to revisit Mexico, a place that had so enchanted her during a trip she took in her gap year a decade earlier. Miers had instantly fallen in love with the smell, taste and sheer variety of the cuisine and couldn't fathom why it was so difficult to get authentic Mexican food in the UK.

Penniless
As luck would have it, around this time someone she knew was about to open a restaurant and cocktail bar in Mexico City. Miers spent the next 12 months travelling the country exploring Mexican cuisine. Returning to the UK penniless, she decided to chance her arm at Masterchef and, after winning the competition, took a job in a restaurant in Richmond for six months where she further honed her skills and began dreaming of opening her own Mexican cantina-style restaurant.

"There's an amazing cantina in Mexico City that I loved," explains Miers. "It was big and bold and it was always packed with people eating lots of dishes that you could share. So in my head it was this cantina that I wanted to open."

At this point in her career, Miers didn't have the financial resources to launch such a venture, but then fate intervened once again when a mutual friend introduced her to Mark Selby, who was looking for a partner to open a restaurant with. After settling on a site in Covent Garden, the first Wahaca opened in 2007 with Miers working as head chef.

"Within three weeks we had absolutely massive queues outside every day," she recalls. "After about a year of this we thought maybe we should open another one because people started to complain that they couldn't get in. So we opened another one and some more after that as well, and suddenly it's become a big group."

The eighth Wahaca restaurant is due to open in Charlotte Street, London, in August, featuring the chain's first Mexican breakfast bar and the UK's first mescale bar, with a temporary restaurant built from eight shipping containers is set to open at London's Southbank Centre any day soon. Although all of the chain's restaurants are currently based in the south east, Miers would love to one day expand to the regions, in response to complaints from customers that they can only eat her food when they're down south.

In the meantime regional fans of the authentic Mexican cuisine produced by Wahaca will have to console themselves with the Wahaca chilli sauces range that Miers launched with All About Food earlier this year. The three-flavour range, which retails for £1.99, is available at selected supermarkets throughout the UK, and was launched by Miers to address a gap she's identified in the market.

"There's a strong 'Tex-Mex' offer in the supermarkets and it's great fun, but I wouldn't say it's very Mexican. These salsas are really Mexican and I think there's definitely room to do a more authentic offering."

She's weighing up further brand extensions in the future with one option being a spice paste, which is used in Wahaca's bestselling restaurant dish.

"The pork pibil we do at Wahaca uses a spice called achiote, which is a deep red berry with a wonderful flavour," says Miers. "People always say 'how can I cook this at home?' They could cook it at home but they would need to get hold of the achiote and all of the spices and herbs, which is quite complicated. The idea that we could make a paste so that people could just marinate their pork and then cook it is quite fun."

In addition to plotting brand extensions, running the burgeoning restaurant chain and publicising her latest cook book Wahaca: Mexican Food at Home, Miers is also preoccupied with a new campaign that she's setting up with Tristram Stuart, author of Waste. The aim of The Pig Idea - Let Them Eat Waste is to reverse the ban on feeding food waste to pigs, which Miers argues is detrimental to the environment.

Pig Idea
"If you feed food waste to pigs they convert it to meat, which is a very efficient way to use up food waste, but at the moment it's illegal to feed waste to animals like pigs. That's crazy because they're feeding pigs on a largely soy-based diet and that soy is often being grown in the Amazon.

"So they're chopping down rainforests, growing soy, shipping it across the world and feeding it to our pigs. What they should be doing is gathering up our food waste and feeding that to pigs, which is what always happened for thousands of years."

The campaign has officially gone live, and Miers says it's already attracted support from some big business names. The Pig Idea provides a perfect fit with her own aims for the restaurant, which has been at the forefront of the recycling and sustainability movement in the restaurant world.

"When I grew up, 'chains' was always a dirty word. Pizza Express was probably the first company that proved that chains could do things differently. The great thing about Wahaca is that so many people can go in and eat reasonably priced, good quality food and we get to talk to them about things that we care about like sustainability. I am really proud that we've created a business that looks after its impact on the world."
Thomasina Miers snapshot
Age: 36
Lives: London, with her husband and baby daughter
Favourite comfort food: A really good juicy steak with some delicious chips and a green salad - or Welsh rarebit
Favourite ingredient: Chillies
Favourite drink: Tequila - it's got to be 100% agave
What's the secret to great-tasting guacamole:Guacamole basically involves fresh limes, coriander, avocados and a bit of seasoning. Once it's got those three ingredients you can pretty much make it how you want - it varies hugely in Mexico - but it's got to be made fresh.