Costa's commercial & customer director only joined 15 months ago but has already launched a tie-up with M&S, revamped Costa's loyalty scheme, and expanded its Deliveroo partnership. So what's next?
Becky Brock makes a habit of starting new roles in times of crisis. She began at Unilever in the aftermath of 9/11, moved to Homebase in time for the housing crash in 2007, and finally began at Costa Coffee in the initial days of the UK's second lockdown.
Some may grow risk-averse in the face of such experiences. Brock has gone the other way. "You've got to back the big bets," she says. "You can't retrench. You can't stop investing."
It's a drum-beating mantra Brock has clearly sought to bring to Costa since she joined the coffee chain in November 2020. In her first 15 months as commercial & customer director, she has led Costa's new tie-up with M&S, expanded its partnership with Deliveroo to 500 stores, and launched the new and improved 'Costa Club' loyalty scheme.
"You've got to back the big bets"
These developments are a sign of her seemingly relentless forward-facing attitude (Brock barely mentions the crippling effect of two years of lockdowns on Costa's retail sales).
Instead, she'd rather focus on the arrival of 33 M&S products on the shelves of over 2,500 Costa Coffee stores across the UK on Thursday. The new menu is (largely) focused on healthy options like bircher muesli, fresh porridge and sandwiches, but also includes sweet treats like Percy Pigs and Yumnuts.
For Brock, the tie-up will help address gaps in Costa's food offering. While it is "really famous for paninis and for the treats", it is lacking on freshness, quality and choice, she says. M&S will offer the healthier, vegetarian, and vegan options it needs.
Age: 41
Potted CV: An eclectic mix from Unilever with Pot Noodle, to Edrington Group and Macallan, to DIY at Homebase, to John Lewis and finally to Costa Coffee
Best piece of advice received: Anything is possible if you believe in it strongly enough
Worst piece of advice received: Be patient
Favourite pastimes: Anything sports-related – playing, watching and also now being a mum/coach on the sideline!
Best book you've read lately: How Meritocracy Made The World by Adrian Wooldridge
If you could have dinner with one person who would it be? Michelle Obama
In characteristic style, Brock is already thinking ahead to the next stage of the partnership: "How do we turbocharge? How do we accelerate with pace?"
The obvious option is to expand beyond the 33 items. Innovation and expansion into new categories is fundamental to future plans, she reveals. "When you read every bit of consumer insight it's crystal clear there are areas of opportunities in freshness, health, hot meals, and kids," she explains. "And the brilliant thing is M&S does that brilliantly. That's their strength."
There could well be opportunities for Costa to expand into M&S, too. Perhaps Costa Express machines in selected M&S stores. Or listings for its growing RTD and ground coffee retail range, sales of which were up 36% last year [NielsenIQ]. It certainly doesn't seem beyond the realms of possibility.
For now, Brock remains coy on the prospect. "Come back to me in a year," she laughs. "First we've got to execute this brilliantly. But all options are on the table."
The partners have certainly had time to get the launch right. Initial talks with M&S began in 2019, when Costa was bought out by Coca-Cola. Then the pandemic came along, and plans were put on hold.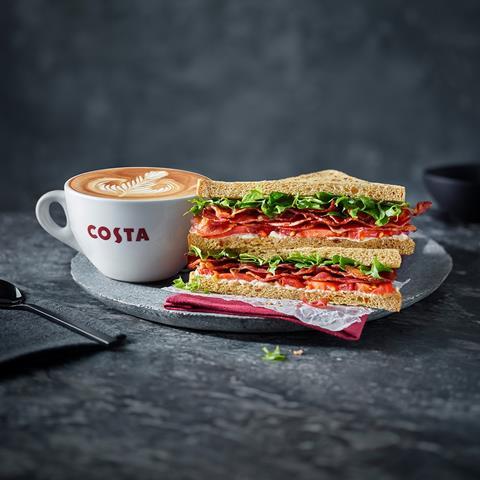 Brock was tasked with bringing the project back to life when she came on board. Coca-Cola has played a key role in its revival, she says. Not only has the drinks giant supported Costa's move to seven-day delivery – a move that aims to maximise in-store freshness – but it has also put up the capital to increase refrigeration space and introduce digital menu boards behind the tills, so Costa can better showcase its food.
"I couldn't ask for anything else from them in this space," she says. "They're actually asking what learnings they can take from us and use globally."
Loyalty revamp
While Brock is clearly passionate about the M&S tie-up, she seems to exude most pride when talking about Costa's revamped loyalty scheme.
Launched in September, it gives customers one 'bean' for every hot drink they buy. When they collect eight beans, the next drink is on the house (reusable cup owners need just four beans for their freebie). It marks a departure from the previous points-based scheme, which could also be used to buy food items.
For Brock, the simpler approach is indicative of her time at John Lewis, where she learned to put "people at the heart of what we do". A key aim of the revamp was to make it easier to understand, she explains. "There are no points. There are no dodgy translations into what does that actually mean for me?"
Costa also now gives customers a free slice of cake on their birthday. While that might seem "slightly irrelevant", she says it's about "creating an ecosystem that puts the consumer experience first". Her mantra is this: "Make it frictionless, make it enjoyable, make them feel rewarded."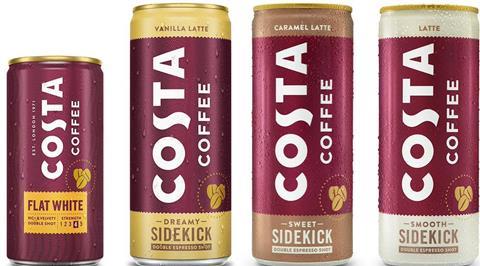 As part of this ethos, Costa app users will rarely see generic promotions, instead receiving offers and communication tailored to them.
It reflects the direction of travel in loyalty schemes – something Brock is familiar with, having worked with Nectar, MyWaitrose, and My John Lewis in the past. She didn't take long to spot the potential of Costa's six million active app users.
"With that data, there was such a huge untapped opportunity to contact consumers and create more personalisation," she stresses. "So it was about putting in place ways to create a better experience for our consumers."
This has included opening more digital channels like click & collect and delivery. As a result, digital sales have gone from 0% when Brock first joined, to 10% a year later. Ultimately, it's about giving the customer what they want, in the way they want it.
"It's how you create a little bit of an X factor," she says. "For me that was already there in Costa. I've just helped bring it to life."