CEO Debbie Robinson has steered Central England Co-op through coronavirus-related abuse, safety and supply issues to support local communities
Out this week, Central England Co-op's annual results in the year to 25 January must seem like ancient history to CEO Debbie Robinson. Though the performance was strong (sales up 2.1% to £743.1m and operating profits jumping 30%, from £11.9m to £15.5m), her world has been turned upside down by the coronavirus epidemic.

While much attention has been focused on the supermarkets, the challenge for the convenience sector has arguably been even more acute. Kantar figures for the four weeks to 19 April put convenience growth at 39%, compared with 5.5% overall grocery market growth.

So how has Central met this increased demand, while adjusting to the new norm? The first priority was to keep staff safe across the Central England Co-op's 262 stores. Safety measures were introduced almost from the moment lockdown began, says Robinson.

"Within hours of the prime minister's announcement on 23 March, Tracey Orr, our chief operating officer, introduced social distancing within our stores," she says. "We made gloves and masks available to our teams and insisted we provide all our colleagues on the till points with protective screens. One thousand were very quickly installed."

The retailer was one of the first to also offer staff optional face visors from the start of May. "We have now provided over 7,000 personal visors, to ensure we are fully prepared should team members want or need to wear one," says Robinson.
"We are taking mitigating action in stores, such as playing messages from our colleagues' children requesting customers respect social distancing"
More recently, eligible staff have been issued with guidance on getting tested for coronavirus under the government's programme for key workers.

But the virus was not the only threat. Abuse, threats and assaults against retail staff doubled in the first month of lockdown, according to shopworkers' union Usdaw. Central England Co-op wasn't immune. Robinson admits there was "poor" behaviour from some shoppers at the height of panic buying, which led to the business investing in 150 security guards.

Shopper behaviour began to improve as conversations on social media turned to showing kindness and respect, but has recently begun to deteriorate again, says Robinson. "That is something that worries me. We are taking mitigating action in stores, such as playing messages from our colleagues' children requesting customers respect social distancing," she says.

Robinson stresses that "safety for colleagues extends to their mental wellbeing as much as their physical". For that reason, stores have been closing earlier, not just to allow extra time for deep cleaning and stock replenishment, but also to let staff go home and have more time with their families.
Meeting local demand
Supply was, of course, another priority when the pandemic hit. As the nation went into stockpiling mode in March, convenience stores saw a spike in traffic. "The trend towards local shopping accelerated, with consumers respecting government safety advice and staying closer to home," says Robinson.

Basket sizes increased and the frequency of shopping trips diminished as customers "tried to minimise their time out of home". The demand spike wasn't necessarily the fillip it seems, coming with "significant increases in operating costs to ensure we can continue to trade safely," says Robinson. Plus, it has had to work harder to ensure customers get what they need.

"Many of our stores are in quite rural areas, and this was a responsibility we took very seriously," says Robinson. "With all educational institutions, pubs, restaurants, cafés and many workplace catering outlets closed, our communities rely on us like never before."

Practical measures were vital to maintaining the service. Like the supermarkets, Central England Co-op limited purchases to two of any product.

But it also used its status in the community to its advantage. The business worked with new local suppliers to divert stock from those institutions and businesses where it would no longer be needed. "With the enormous pressure on the supply chain, we were able to take an agile approach and work closely with smaller suppliers to fill the gap," says Robinson. "For example, taking the supply of bread meant for schools from a local baker and diverting it into our stores." But even with supply maintained, you need staff to fill the shelves. To tackle early absenteeism - many staff were either sick or self-isolating - over 1,000 new store staff were recruited. "With extra hands to help in store, we have managed to maintain most of the stock and supply more families than ever before."

Demand has since eased and restrictions have been lifted on all but a handful of high-demand categories such as baby milk and handwash. "Frequency is starting to rise again, and with it, basket sizes are reverting to more normal levels," she adds.
Central England Co-op staff recieve thank you bonus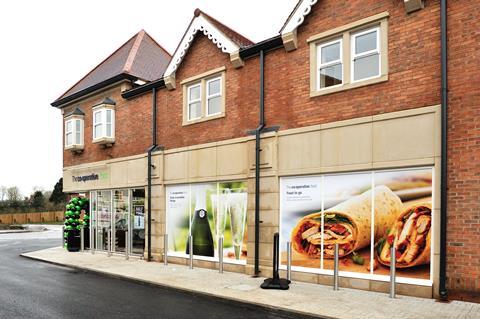 Central England Co-op is saying thank you to its key workers with a bonus that reflects the spike in customer demand.
"In recognition of their dedication and hard work, we took the decision to award an extra week's pay," says Robinson.
The day they get an annual payout of their share of profits has also been brought forward.
"I remain in awe at the efforts of these frontline workers who have demonstrated the co-operative values and principles of self-responsibility and solidarity," says Robinson.
"I want to express my appreciation and gratitude to all team members across our family of businesses at Central England Co-op."
Supporting the community
The grocery industry's response to the crisis hasn't just been practical. It has also has been characterised by support for communities, from key workers to the vulnerable. The founding principles of the Central England Co-op made that important.

"Communities are at the heart of our mission," says Robinson. "We knew which partners would quickly suffer difficulties and so rapidly increased our community support efforts in these areas. We stepped up donations to FareShare and Dementia UK within a week of the crisis." Some 60,000 items were donated to food banks.

As part of its efforts to help vulnerable customers, Central England Co-op has also been part of the government effort to provide food parcels. It worked with local authorities to get parcels out through four community hubs. "The uptake has been high, with thousands of people taking up this support, so we will open a further six over the coming weeks," says Robinson. "We are also supporting our members with a call & collect service across our entire region."

And while many retailers have set aside special opening hours for NHS staff, Central England Co-op has given them priority "all day, every day" in the queues. "We also made available a 10% discount, which so far almost 100,000 workers have taken up," says Robinson.

So times may be challenging, but there is still positivity to be found.


Steve is deputy news editor at The Grocer.

He's responsible for covering online grocery and the discounters, and for editing The Grocer's analysis features. He's an experienced journalist who has contributed to a range of national newspapers including The Mail on Sunday.

Follow Steve on Twitter: @Steve_Farrell_