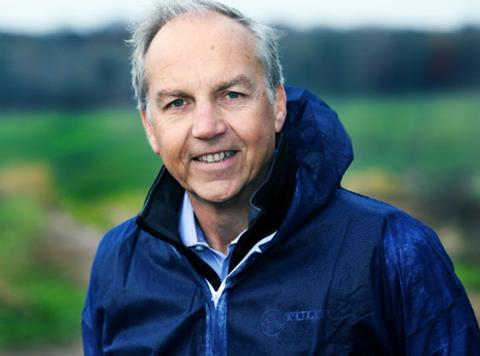 As meeting venues go, a room in the Holiday Inn opposite London's Brent Cross shopping centre seems unlikely for the CEO of Tulip, the UK's biggest pork producer. But Steve Francis has just been to visit client McDonald's in nearby Finchley, one of his regular trips away from Tulip's Warwick HQ, and as a "hands-on boss" he's more likely be out on the road meeting Tulip's 6,000 staff in its 16 factories and myriad farms as sat behind a desk, his team suggest.

After a turbulent couple of years, which reached a nadir in the summer of 2016, that's exactly what the Danish Crown subsidiary and Danepak owner has needed to turn around its fortunes.
Snapshot
Name: Steve Francis
Age: 57
Job title: CEO, Tulip
Family: Three children
Residence: Wimbledon
Education: MA in physics, Corpus Christi college, Oxford
Career: Joined First Chicago bank as a graduate trainee. Subsequently worked in various senior roles at Brent Chemicals, McKinsey & Co, AT Kearney, PwC and Barclays Capital, before joining Vion in 2008 as COO/CFO, later becoming MD of its pork business unit. Joined Danwood Group as CEO in 2012 and was appointed CEO of Tulip in 2016.
Interests outside work: Cycling, great food and wines
Career highlight: The Tulip turnaround!
Business mantra: Do what's right, make clear decisions and take action
When Francis joined Tulip on 5 September 2016, he said the business had "lost its edge". That's something of an understatement. We now know that it was haemorrhaging a staggering £1m a week, and had lost 25% of its customer base. So what happened? How bad did things get? And is Francis prepared for his next big challenge, Brexit?

Tulip was a trailblazer in the Danish pork export trade that began sending pork to the UK in the 1910s and has been firmly established in the UK ever since. It now slaughters one in four pigs reared in the UK. But by the early 2010s, the business had begun to seriously "lose its way", Francis says.

"It had started to build too much of a head office. Retailers hate suppliers with big head offices, and the business had become slower at responding to customer needs. NPD slowed down, and our packaging, which had been leading edge some five or six years ago, looked tired, while our competition had moved on."

Then in 2014, it started losing supermarket contracts, as it struggled to deliver to plan and saw service levels in some factories fall as low as 65% some weeks - what Francis calls "empty shelf country".

"By the start of 2016, a quarter of our retail ledger had been lost, with much of our best business gone," he adds, including a big chunk of its Tesco contract. This, combined with "huge" inflation in pig prices, accelerated the company's difficulties. "By May we had fallen into a loss and by the time I arrived at the business we were losing a million a week. Not only that, the way our farmer co-operative model works is that the global profits of Danish Crown are added up every week, minus the cost of processing, with any surplus going into an increase in the pig price paid to farmers next week. So the Danish farmers felt our losses immediately."

This is where Francis was brought in. A turnaround specialist, one of his most recent roles was as COO at Vion Food Group and later head of its pork business.

When he arrived at Tulip "there was no collective consciousness about how much of a crisis the company was in, so we went around the factories, and listened to our customers," he says.

"We found quite a lot that didn't have site directors any more, only interims. The bloke who had been on the slicing line for 20 years was no longer there, and had been replaced by a youngster in many of the factories. When I talked to customers, they all said service levels were poor, and that's completely unsustainable."
Four divisions
The business was subsequently split into four divisions: Tulip Fresh, Tulip Added Value, Tulip Agriculture and Dalehead Foods, each with its own leadership team, objectives and strategies, and in a departure from the usual turnaround move of axing headcount, Francis asked the Danish Crown board for more money.

"I said we're going to have to throw people at this and ensure we have an outstanding Christmas. Two things happened here. Because we had lost a lot of business but still had the pigs, we were like the Bank of England for pork as supplies were now tight."

As a result, Tulip saw a "huge rebound" from customers such as Tesco, which was "amazed because not only did we supply every case, we were able to supply them in full and were very responsive, so a very different attitude to what they had seen previously".

That investment in staff, which saw Tulip bring in "craft leaders" such as butchers from across Europe, helped the business recover quickly, and by Francis' first anniversary in post, it was back in the black.

Getting Tulip staff to embrace the new regime (and the performance of Dalehead - a ringfenced Waitrose supply chain) has been key in turning the business around, Francis says. But he knows problems lie ahead.

Last month, a European Livestock and Meat Trades Union report titled 'Crisis' warned of the "shockwaves" that would be sent through the European meat industry in the event of a hard Brexit, leading to the potential loss of 32,000 jobs across Europe, reducing trade and hitting revenues by as much as €4.7bn (£4.2bn) a year.

The pork sector would feel the effects of trade barriers particularly keenly, says Francis.

"The WTO tariff on imported pork and bacon is scary. We've done the costing analysis and it could add up to 40% to the cost of importing," he says. But an even more pressing concern is securing the labour to man Tulip's factories and the farms that supply those factories.

"It's the biggest thing I worry about, and it's already a fact that some of our factories struggle to get enough people to man the lines. We can move people around, and we can invest in robotics where they work," he adds, while Tulip has also invested in its apprenticeship and graduate trainee schemes during the past year.

The irony is, Francis voted for Brexit. "I'm a European, my mother is German, I own a house in France, I proactively pull down any walls between us and colleagues in Denmark, but I voted for Brexit as I felt Brussels was completely out of step with what Britain needed as a country," he says.

But he concedes the vote created "tensions" in some factories in Brexit strongholds, and as a result of the uncertainty created, "I would now vote to remain".

"What we can do as a business is engage with government and become as efficient as we can. We have to assume the worst in scenario planning, but people will always need to buy Danish bacon. It's a fact of life."