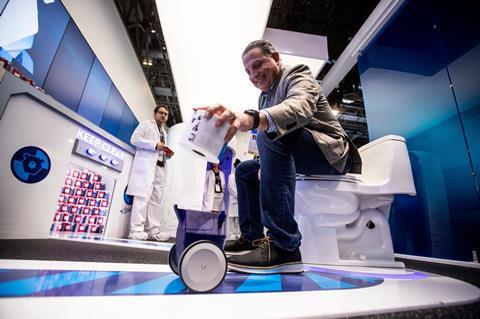 Bad news, chefs: robots are taking over – that's the key message from Bogof's trip to the Consumer Electronics Show in Las Vegas.

But while the majority (such as Samsung's 'Bot Chef' and Picnic's pizza machine) are interfering in the kitchen, bog roll brand Charmin has come up with an actually useful robo-innovation – one that does a job you probably wouldn't want to ask a fellow human to do.

No, it's not that. But Charmin's friendly bear-faced bot brings loo roll to stranded throne perchers who have realised, too late, that they're out of paper. What a hero!

Charmin's boffins have also come up with 'SmellSense' – an electronic nose that senses the chemical compounds that make up farty smells. When confronted with these, a screen-based bear makes an appropriately appalled face, before flashing up the message 'wait it out' on the bathroom door. It's not subtle – but it's better than disgusting/being disgusted by a loved one.

Surely it makes sense to combine the bog roll bot and the stench sniffer, Charmin? And get to work on an auto bum wiper while you're at it!