This article is part of our Breakfast Digital Feature.
Breakfast drinks have made a big splash in the UK. Following the 2014 launch of Weetabix's On The Go drinks, the range has racked up £6.6m in the past year [IRI 52 w/e 18 July 2015].
A host of other brands are slurping from the same cup: sales of Fuel 10k's drinks have risen 4.9% to almost £1m and Australia's biggest breakfast brand, Up&Go drinks, landed on these shores in January with grand plans and a big marketing budget (see the ad below). So how much potential does the UK breakfast drinks market have?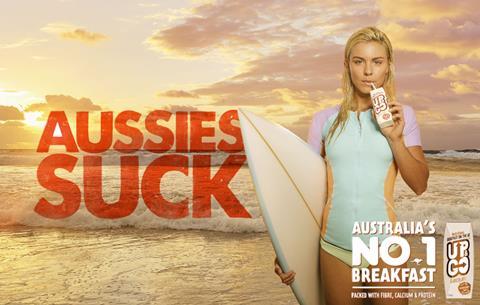 "The trend for convenient on the go breakfasts is increasing and the success of this category in the US and Australia points to a huge potential here," says Scott Chassels, head of sales at Fuel10k owner Fresh Marketing. "In less than three years, breakfast drinks has grown from nothing to £13m and based on growth trajectory and consumer trends we think this will grow to over £100m in the next three to five years."
Fuel10k is hoping to secure some of this growth for itself and has just launched a banana variant into 300 Asda stores. And, while sales of Liquid Breakfast rose 4.9% over the past year, volumes fell 3.9% as the number of promotions was reduced. Chassels remains optimistic, though, claiming the total Fuel10k brand is up 71% in value [4 w/e 7 August 2015] compared with the same period last year.
However, all players face a significant challenge, says Tom Mercer, founder of Moma Foods, which rolled out Oatie Shakes in February this year: convincing Brits to drink their breakfast.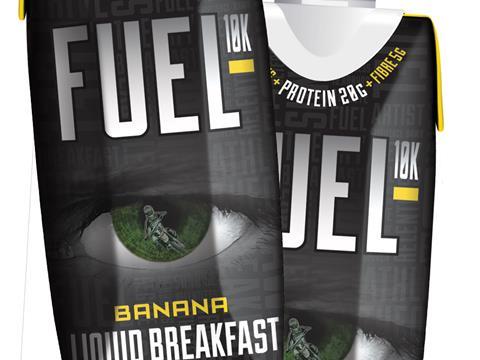 "Porridge is worth £284m in the UK but on the Continent it's tiny, because it's a bit weird if you've never had it before. Breakfast drinks are like that," says Mercer. "Clearly there is a need for grab and go breakfasts and drinking breakfasts are the ultimate version of this, but habits take a while to change."
As part of this, they need to convince consumers of their nutritional worth. "People are struggling to find on-the-go breakfasts that are also nutritious," says James McMaster, Up&Go CEO. "We have spent years perfecting our Up&Go drinks to offer this. Each carton is high in protein and fibre but low in fat and fortified with vitamins."
Protein is key in this market. Fuel10k knows this and boldly displays its 20g of protein per bottle on the front of pack. Weetabix is also getting in on the action with Weetabix On The Go Protein, comprising vanilla, strawberry & raspberry, and blueberry & blackberry variants, launched in June 2015.
Up&Go, meanwhile, is pinning its hope on new flavours to drive the category forward as it introduced Banana & Honey, Iced Coffee and Mixed Berries in September along with multipacks of Vanilla and Chocolate. As far as McMaster is concerned, breakfast drinks in the UK are here to stay.
"Breakfast drinks have seen a triple-digit sales growth and sales value per square foot ratios in comparison to traditional big box cereals are incredible," he adds. "This is definitely a sign of the future popularity of the on-the-go category."
In association with: