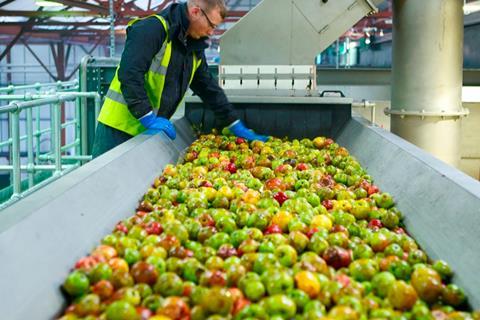 Food prices could go up unless the government changes its post-Brexit immigration approach, a new report by MPs has warned.
Following its inquiry into labour in the food supply chain, the Environment, Food and Rural Affairs Committee's report stated getting food businesses to move away from migrant labour would "take time".
As such, the cross-party group of MPs recommended a more transitional move away from freedom of movement rather than a hard stop from 1 January.
This included urging the government to be prepared to take a flexible approach to post-Brexit immigration should the existing policy prove detrimental to food businesses or food security and adding job roles, such as veterinarians, to the shortage occupation list.
The report also called for immediate action, such as the announcement of how many visas will be available to foreign workers under the Seasonal Agricultural Workers Scheme in 2021.
The growing industry has repeatedly insisted more than 70,000 permits are required each year and recently warned producers could be forced to cut back next year's planted area if uncertainty continued.
"By leaving its plans vague and not having the proper figures to hand, the government is effectively turning off the tap for employers, without giving them time to adapt," said Efra Committee chairman Neil Parish. "Many businesses are now facing a cliff edge with no clear plan about how to move forwards.
"If British farmers and food producers can't get the workers they need, we all risk higher food prices or more cheap imports produced to standards we wouldn't tolerate here. This transition needs to be properly managed, with appropriate provisions made to prepare British businesses."
Longer-term recommendations made by the Efra Committee included providing support for training up British workers for food supply chain roles, and helping farmers and food producers adopt new technologies that would reduce their labour needs.
In response to the report, the government insisted the new immigration rules would "benefit the whole of the UK" and would see investment in the workforce already in the UK.
It is understood the Home Office and Defra are in discussion over the number of visas that will be issued under next year's SAWS.
"We are in regular contact with the food industry to support its preparations for a range of scenarios, and will continue to work closely with them to ensure people across the country have the food and supplies they need," said a Defra spokeswoman.
The food industry has repeatedly proffered a bleak outlook for its prospects post-Brexit, with the government's new points-based immigration system coming in for particular criticism.
Since the Efra Committee launched its inquiry in March, it has heard of how food businesses are either underprepared or unable to plan for Brexit due to a lack of detail from government.
In his September appearance in front of the Committee, Defra secretary George Eustice was criticised for claiming UK workers made up a larger proportion of the UK seasonal workforce than was actually the case.