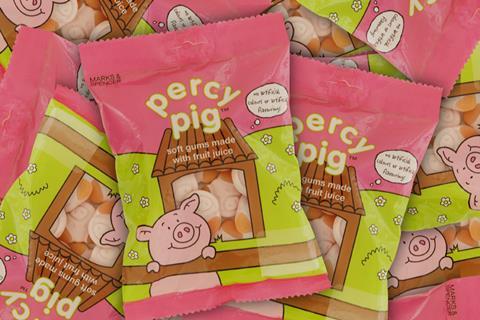 A third of M&S's food products are subject to new tariffs on exports to the EU under the UK's trade deal, the retailer's CEO has revealed.
The new tariffs together with "very complex administrative processes" would "significantly impact" M&S's businesses in Ireland, the Czech Republic and franchises in France, the retailer said in its Christmas trading update this morning.
New costs stem from 'rules of origin' under the trade deal, which specify how much of a product must be made in the UK for it to qualify for tariff-free EU access without further processing.
"About a third of the products in our food business – and others by the way – are subject to fairly complex rules of origin arrangements about the componentry within it and how much has been altered in the UK," said M&S CEO Steve Rowe.
"The best example I can give is Percy Pig. He's actually manufactured in Germany. If he comes to the UK and we then send him to Ireland, in theory he would have some tax on him.
"We've got a lot to do in terms of composition and re-routing but it's really important we continue to be focused on trading and business, and at the moment making sure we've got continuity of supply in our Irish businesses."
Percy Pig sponge rolls are among 380 M&S products reported today to have been withdrawn from Northern Ireland as a result of the Christmas Eve Brexit deal which effectively created a trade border in the Irish Sea.
An M&S spokesman said: "We have served customers in Northern Ireland for over 50 years and our priority is to make sure we continue to deliver the same choice and great quality range that our loyal customers have always enjoyed.
"Stores have been receiving regular deliveries this week, however following the UK's recent departure from the EU, we are transitioning to new processes and we're working closely with our partners and suppliers to ensure customers can continue to enjoy a great range of products."
Rowe said there had been "a minor piece of disruption" in the supply chain in the first couple of days after new year.
On the costs, he said: "It is all about determining the tariff rates that we have on individual products, and it's about a third of the range that's affected, and we are working actively to mitigate those.
"And there are lots of ways we can mitigate those, whether it be local supply, transport arrangements, composition et cetera.
"The bigger thing is a complex issue for the whole industry and that's something we are trying to make sure we get clarity on."
He added: "Big businesses I think will find a way of working round these restrictions. It's much more onerous for small businesses."
Rowe also discussed M&S's decision to keep businesses rates relief while a string of supermarkets led by Tesco announced plans to hand it back. He said M&S's business was in "trauma" and "we have made sure we've used that money in the right way, supporting colleagues, keeping those on furlough on full pay".
"In the medium term, I think it illustrates that this is an outdated taxation system that impacts high street stores more than it does those online and we would call for some reform."
He said staff absentee rates had doubled in the past couple of weeks to about 10%, with "a spike particularly in the south east as you would imagine with UK [Covid] figures".
"This is something we went through with the government yesterday and I think it's fairly constant in the industry."
M&S was also in talks with the government over how it could help facilitate the vaccination programme, he said. "We've got very close dialogue with most government departments at the moment and we'll help out wherever we can."
M&S's trading update revealed an 8.4% drop in third quarter sales, with food growth of 2.2% not enough to compensate for a plunge in general merchandise sales.
Total UK sales in the 13 weeks to 26 December were down 8.2% and by 7.6% on a like-for-like basis.
Sales had been down 3.6% before the government's tiering restrictions in November and then plunged 19.5% during that period before recovering to drop a more modest 3.6% again in December.
Food like-for-like sales increased 2.6%, and 5.7% excluding hospitality.
Excluding both hospitality and franchise, food like-for-like sales grew 8.7%, "with large retail park and Simply Food stores significantly outperforming," the business said.