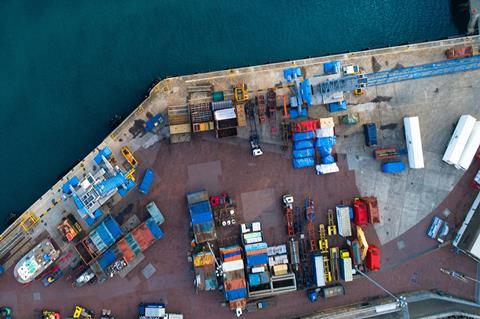 Food leaders have accused the government of leaving businesses in the dark over vital information needed to prepare for a no-deal Brexit.

With the prospect of the UK leaving Europe on 31 October without a deal growing, they said key questions concerning customs arrangements, documentation needed by businesses and the impact of tariffs remained unanswered.

The FDF is warning ministers are ignoring calls for clarity from businesses most likely to be affected.

Having sent a list of 50 key questions covering areas such as arrangements for import and exports, logistics and documentation, it said 11 had been completely unanswered, while a further five had only been partially addressed.

The questions range from asking whether the Customs Declaration Service would be ready to handle all customs declarations by a 31 October deadline, to plans to ensure the speed of the flow of trade continues for both imports and exports.

The trade body is now calling for a meeting with Michael Gove and new Defra secretary Theresa Villiers, calling for them to urgently fill in the blanks.

"With the prospect of a no-deal seemingly ever more likely, it's vital that the government helps provide guidance for those whose businesses stand to be affected," said FDF CEO Ian Wright.

"Instead we have not had answers to a series of vital questions that businesses need to prepare for a hard Brexit. The time has come for Michael Gove and Theresa Villiers to provide the answers."

"The level of uncertainty has been ramped up. Our members are worried about the future of their businesses and we are seeking clarity."

Wright added that the prime minister's latest move to suspend parliament had only served to increase business fears.

"The move to prorogue parliament is clearly a very concerning development," he said.

"The danger is this simply causes more uncertainty and impact on the markets, impacting on businesses which are already unpredictable.

"The risk is that causes a more hostile operating environment to businesses which are already facing threats to their future."
Unanswered questions: 11 issues government has yet to explain
What are the impacts for ongoing negotiations at the WTO regarding the UK's WTO schedules?
How will government ensure the speed of the flow of trade continues for both imports and exports?
Will arrivals of ingredients/packaging for just-in-time food and drink production be prioritised?
When the UK becomes a 'third country' to the EU, what will the UK call already existing 'third countries' in contracts and legislation post-exit?
What checks and inspections will goods moving from Ireland to Northern Ireland, and vice-versa, face?
How will government mitigate disruption at Irish Sea ferry ports?
What will happen to the AEO status of UK companies?
What will happen to limited shelf-life products that can no longer be exported?
What will happen to EU FTAs that are not rolled over?
How will companies importing products containing products of animal origin from the EU for co-packing in the UK, obtain a health certificate to re-export these products?
What plans are being made to mitigate the impact of VAT and tariff costs?