With two weeks to go until the general election, all the main parties have published their manifestos. So how do they fare on the key issues for food and drink?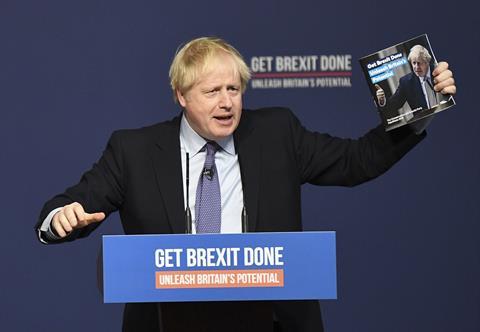 Conservatives
Brexit: "Get Brexit Done" is the manifesto slogan PM Boris Johnson hopes will swing the vote, get his withdrawal deal back before parliament before Christmas, and the UK out of the EU by the end of January.

The document promises "friendly co-operation" with the EU but, significantly, not on the EU's treaties or EU law.

"There will be no political alignment… We will keep the UK out of the single market, out of any form of customs union, and end the role of the European Court of Justice."

The manifesto also promises the Tories would not extend the implementation period for Brexit beyond December 2020.

The Tories say they will aim to have 80% of UK trade covered by free trade agreements within the next three years, starting with the US, Australia, New Zealand and Japan.

Food, however, does not get a mention as one of the "world-leading" sectors it will champion, unlike architecture, engineering, accountancy, IT, digital services, law and the ­creative arts.

High street: The Tories promise a "fundamental review " of the business rates system, though the same was promised by David Cameron in 2014.

The Tories pledge in the meantime to reduce rates for smaller companies and extend help for music venues, small cinemas and pubs.

The manifesto promises to invest £100bn in additional infrastructure spending, on roads, rail and other improvements to help towns.

Workforce: A "firmer and fairer" Australian-style points based immigration system is proposed.

The manifesto pledges a "high-wage, high-skill, low-tax economy", including further national living wage rises.

The Tories promise "significant numbers" of new UK apprentices for all big new infrastructure projects, saying projects such as hospitals, schools and transport connections will be built by a "new generation of British workers". The party promises to create a £3bn National Skills Fund.

Health: The focus is on the NHS, including an already-announced promise to increase spending by £34bn a year by the end of the next parliament and a commitment to build 40 new hospitals over the next 10 years.

Other issues, such as childhood obesity, hardly get a mention, beyond promises of long-term policies to tackle it, along with heart disease and diabetes. Details are lacking.

Food policy: The manifesto says the Conservatives will make British food produced by farmers "the envy of the world" and want people "lining up to buy British" at home and abroad post-Brexit.

Elsewhere, there is the briefest of passing references to the National Food Strategy and promise of an Alcohol Duty Review to follow up on the last two years of freezes on spirits. The review will ensure "our tax system is supporting British drink producers".

Environment: An "all in" deposit return scheme to tackle plastic and glass is included in the manifesto, despite calls from many in the industry for glass to be excluded from DRS.

The Tories promise to "lead the world in tackling plastics pollution". The party also restates its plan, articulated in the Environment Bill, to introduce a single-use plastic tax and extended producer responsibility, under which producers will pay the full costs of dealing with packaging waste.

A new independent Office For Environmental Protection will enforce targets, while national flood defences will receive £4bn in new funding.

Analysis: Despite the promise to get Brexit done, the manifesto appears to guarantee more cliff-edge drama.

The promise to get Johnson's "withdrawal deal through parliament before the end of December" may look like hope of an end to uncertainty, but the catch is no extension for the transition agreement beyond December 2020. That sets a seismic countdown for July 2020, the date by which the UK has to request any such extension.

Can the UK really negotiate a trade deal with 27 EU countries in the next eight months? And can it really, within three years, negotiate free trade deals with the US, Australia and Japan, in talks that will, we are told, run in parallel with the Brexit negotiations? It looks like mission impossible, yet the three words on the cover could win the election.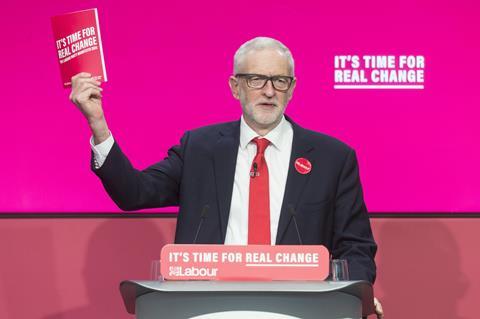 Labour
Brexit: Labour says it will secure a new Brexit deal within three months of coming to power that "protects jobs, rights and the environment, avoids a hard border in Northern Ireland and protects the Good Friday Agreement and the peace process".

But it also promises, within six months, to hold a second Brexit referendum, giving the public a chance to throw out its new deal and stay in the EU. Leader Jeremy Corbyn says he will remain neutral on the issue.

Many businesses will welcome Labour's insistence on a "permanent and comprehensive" UK-wide customs union with the EU, close alignment with the single market and "dynamic alignment" on workers' rights.

High street: Labour promises to review business rates, mooting the option of a "land value tax" aimed at landlords as an alternative to rates.

It also promises to revive high streets by stopping bank branch closures, banning ATM charges and giving councils powers to force landlords to hand over empty shops.

Workforce: Labour says it would make it easier for employers to spend the Apprenticeship Levy by allowing it to be used for a wider range of accredited training schemes.

It has also announced plans for up to 80,000 Climate Apprenticeships a year to invest in skills to create a "green revolution" in the UK.

Health: The manifesto sets out plans to expand the sugar tax to cover added-sugar milk drinks.

Labour would also ban fast food outlets near schools and enforce stricter advertising of HFSS foods.

Food policy: The manifesto promises to "put farmers, fishers, food producers and workers at the heart of our plans", with a policy based on healthy food, produced locally.

"We will support local food networks, expand access to farm holdings and ensure rights of union representation for all food and agricultural workers."

The party would re-establish an Agricultural Wages Board in England, so every part of the UK is covered.

Labour also promises additional funding for Defra and its arm's lengths bodies of £70m by 2024. It pledges to establish a National Food Commission to make food security grounds for intervening in the economy, and to work with local councils to minimise food waste.

An extra £5.6bn in funding will improve the standard of flood defences.

Labour would also end the "ineffective" badger cull, describing it as "the largest destruction of a protected species in living memory".

Environment: As part of its "Green Industrial Revolution", Labour sets a target for 3% of GDP to be spent on research and development by 2030.

It says it will push ahead with plans for waste, including plastic waste, to be made the responsibility of producers.

Labour flags that a quarter of all food purchased is wasted every year. "Yet Britain has an epidemic in food-related ill health, obesity, malnutrition and diabetes, as well as increased food insecurity - with a boom in food bank use and record levels of hunger."

The party says it will end "food bank Britain" and ensure everyone has access to healthy, nutritious, sustainably produced food.

Analysis: Despite its eye-watering spending commitments, on paper at least, several of Labour's core policies are exactly what industry leaders have been calling for, especially when it comes to Brexit.

Yet businesses will also no doubt be nervous, not just about the vast sums Labour plans to throw around, but its apparent 'anti-big business' tone.

Labour promises a second ­referendum, or a deal that pledges no border on the Irish Sea, a customs union with Europe and alignment with the single market.

This and a pledge of "dynamic alignment" on worker's rights represent a huge gulf on Brexit policy with the Tories.

Yet there are serious doubts about other key elements of Labour's plans, including raising the national living wage to £10 per hour, as well as concern over Corbyn's plan for 300,000 Green Apprentices, to be funded by a 20% raid from the Apprenticeship Levy. And over whether attacking "greedy landlords" is the way to save the high street or an attempt to turn the clock back to the 1970s.
Liberal Democrats
Brexit: The Liberal Democrats would scrap Brexit if they came to power, promising to revoke Article 50 and stay in the EU. This would deliver a £50bn "Remain bonus" to spend on public services, they add.

High street: Leader Jo Swinson announced plans to replace business rates with a Commercial Landowner Levy, "shifting the burden of taxation from tenants to landowners". The Lib Dems would also expand the Future High Streets Fund and scrap rules allowing developers to convert offices and shops into residences without planning permission.

Workforce: The party would set a 20% higher minimum wage for people on zero-hour contracts and expand the apprenticeship levy into a wider 'Skills and Training Levy'.

Environment: The Lib Dems say they would ban non-recyclable single-use plastics within three years and replace them with "affordable" alternatives and seek to end plastic waste exports by 2030.

The party would also introduce DRS for all food and drink bottles and containers.

It pledges to generate 80% of electricity from renewables by 2030 and to slash carbon emissions.

Health: Policies include minimum pricing for alcohol, mandatory nutrient labelling in the out-of-home sector and restrictions on in-store marketing and advertising of HFSS foods.

The party would also extend the sugar tax to milk drinks.

Analysis: The Lib Dems go much further than the other leading parties on some of their key pledges, notably on health and the environment. But it is surely the pledge to stop Brexit that will determine the party's success or failure.
Other parties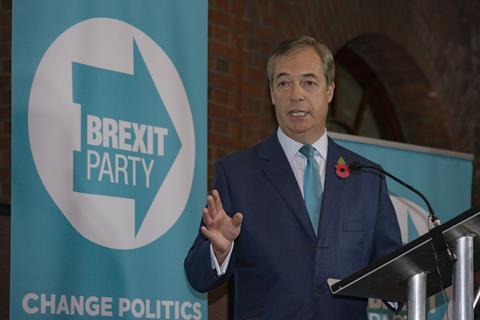 Brexit Party: Until recently the party campaigned for no-deal as the only option, but its manifesto now calls for a "clean-break Brexit", which, like the Tories, permits no extension of the transition period beyond December 2020.
The party also promises to "crack down on illegal immigration", with plans to cap permanent immigration at 50,000 a year.
Green Party: The Greens have more mentions of food in their manifesto than any other party. Plans include a new tax on meat and dairy products to cut the 5% of carbon emissions that come from methane from livestock.
The party says it will incentivise changes in food consumption, towards locally and sustainably produced food, and a principle of "less but better" meat and dairy consumption. There are plans for clear labelling to indicate carbon emissions, higher animal welfare standards and a crackdown on intensive production methods.
Plaid Cymru: The party calls for a second Brexit referendum, unless it raises the prospect of a no-deal exit from the EU, in which case Plaid would seek to revoke Article 50.
Plaid proposes a £20bn "Welsh Green Jobs Revolution" and says it would make Wales single-use plastic-free by 2030.
SNP: The SNP supports a second referendum on Brexit but also a second referendum on Scottish independence, which it plans to hold next year. It promises to fight "Tory Brexit trade deals with Donald Trump".
For its support in a hung parliament, it's demanding UK government increase health spending to match Scotland's.
It also wants tax reform to support "greener choices" including more energy-efficient homes and businesses.


Ian covers Tesco, Asda and Morrisons among the major retailers. He's also our go-to guy for all issues related to health, high street and public affairs.