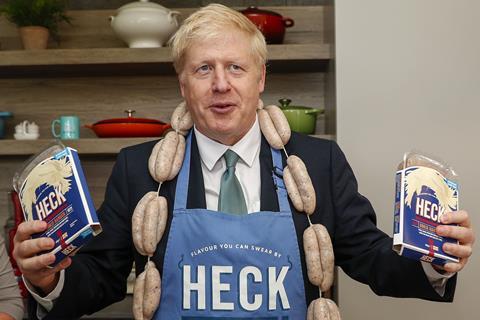 British sausage brand Heck has insisted it has no political bias following a backlash over its recent publicity shoot with Boris Johnson.
Hundreds of people have taken to Twitter pledging to boycott Heck after Johnson was pictured at its Yorkshire factory last week with a string of sausages around his neck brandishing packs of 'Boris Bangers' made in his honour.
Johnson, who is touring the UK as part of his Tory leadership campaign, reportedly said he was "insanely proud" to have a sausage named after him, and promised to back Heck's plans to build a £4m Sausage World attraction in North Yorkshire.
Heck – which has previously warned of the 'cataclysmic' impact Brexit could have on its workers, half of whom come from eastern Europe – was accused of resorting to a 'cheap publicity stunt' with the pro-Brexit MP.
'Two years ago I dragged my sorry arse to Helmsley in north Yorks to listen to the owners of @HeckFood talk about how disasterous [sic] brexit would be for their business and to hear from heartbroken Eastern European employees and now this,' tweeted The Guardian's Jay Rayner.
However, in a statement sent to The Grocer this morning, Heck co-founder Andrew Keeble insisted the brand had no political affiliation "and didn't mean to cause offence or upset anyone".
"We have an open invitation to all members of all parties to come and answer the question about what they are going to do to help secure the future of our European workforce and team members," he said.
Heck had invited both Conservative leadership candidates, Boris Johnson and Jeremy Hunt, to "come and see us during the York hustings", added co-founder Debbie Keeble.
"We do not specifically endorse any candidate. We want to know how our Brexit will affect our business and team. We wanted to seize upon the chance to ask them what they are going to do to secure the long-term future of people working in Yorkshire who are from Europe," she said.
"You have to work with who is going to be in power whatever your political view, dialogue is the only way forward. We are not political and not selling sausages to support anyone."