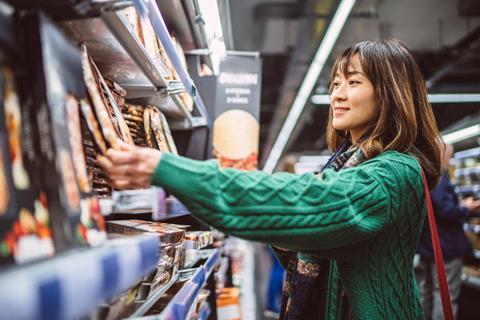 The majority of British food and drink suppliers think the government should ditch plans for UK-wide 'Not for EU' product labelling to avoid price hikes for consumers.
An FDF survey found eight in 10 of the country's biggest suppliers opposed a UK-wide approach to the requirements, which are part of Northern Ireland's post-Brexit agreement.
From October, British businesses exporting to Northern Ireland are required to label their products 'Not for EU' to avoid them wrongly making their way to the Republic of Ireland, where goods are subject to European Union standards. It is a requirement of the Windsor Framework, announced in February.
In June, Defra confirmed the same labelling requirements would eventually be phased in across the entire UK between October 2024 and July 2025.
But the FDF warned the plan to extend 'Not for EU' product labelling to Great Britain would "inadvertently lead to further price increases for consumers".
"Our members are really clear that the government's plan to extend 'Not for EU' product labelling on a UK-wide basis will hamper growth, hitting investment, exports and jobs while increasing consumer prices and restricting the choice of products," said FDF director for growth Balwinder Dhoot.
The FDF also said forcing all UK businesses to individually label their products 'Not for EU' was "unnecessary and will fail to deliver any practical benefits for shoppers or businesses".
The requirements will apply to all food retail businesses, whether they are supplying Northern Ireland or not.
Provision Trade Federation general director Rod Addy pointed out the rules were "particularly frustrating for companies not supplying into Northern Ireland" – including European suppliers who only move goods to Great Britain.
"For producers outside the UK, this instantly creates at least two streams of the same product: one with packaging aimed purely at the UK market and one with packaging aimed at the EU," Addy said. "This will increase costs and complexity and potentially deter those suppliers from distributing product into the UK."
The British Retail Consortium is also opposed to the expansion of the scheme to Great Britain.
Andrea Martinez-Inchausti, BRC's assistant director of food, told The Grocer: "The BRC would like to see minimal friction for goods travelling from Great Britain to Northern Ireland and supports the aims of the Windsor Framework to achieve this.
"However, the suggestion that 'Not for EU' labelling is extended to include food sold in GB risks creating new costs and availability issues for customers.
"Given labelling is intended to prevent goods from GB entering the EU through Northern Ireland, it is unclear why such labelling is necessary for all goods sold in Great Britain. This will only add unnecessary costs at a time when the cost of living is already high."
Even though businesses still have some weeks until the rules officially apply, the first 'Not for EU' labels were spotted in an Asda store in Northern Ireland last week.
The supermarket is slowly beginning to introduce the labels to own-brand goods, starting with beef products.
If you squint you can see Asda has begun a soft roll-out of 'Not for EU' labelling in its NI stores. This will be a requirement for some GB-NI food products using the Windsor Framework green lane from October. pic.twitter.com/V8cbKhnxMZ

— JPCampbellBiz (@JP_Biz) August 22, 2023
The industry has for months been sounding the alarm over the costs associated with relabelling individual products.
The government said it would help fund some of the relabelling expenses in the first phase of the scheme, though it is not yet known exactly what that will amount to.
Traders have also pointed out they are working against a short timeline, which will be particularly impactful for smaller businesses with less resources than the mults.
The government has also suggested it will take a "light touch" approach to enforcement in the early stages of the scheme.
Defra has previously said: "We have always been clear that labelling is a proportionate and necessary means of ensuring goods moving in the green lane will only be sold to end consumers in Northern Ireland and ensures they can move without routine checks.
"We continue to work closely with and hold regular conversations with businesses so that we can prepare guidance on the operational and delivery implications of the changes."