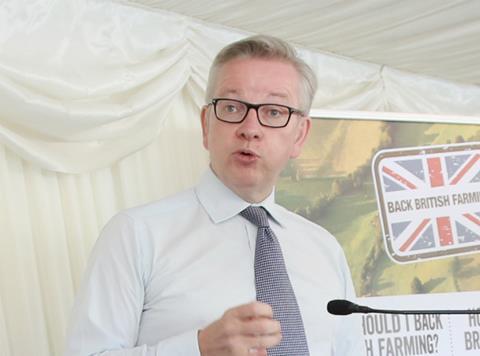 Environment secretary Michael Gove has approved a £16m cash injection for Defra to fund vital Brexit preparations after the department's permanent secretary warned of "severe disruption" to public services without investment.

In a letter requesting ministerial direction sent to Gove on 18 January, Defra permanent secretary Clare Moriarty said the department needed approval on a series of projects ahead of the UK's departure from the EU in 2019, and noted the department was working "at pace" on a number of negotiating scenarios, including the prospect of a hard Brexit.

But under the government's Managing Public Money principles, the department was not able to incur additional Brexit-related expenditure on new services before the EU (Withdrawal) Bill was given Royal Assent next year, Moriarty said.

"This would be likely to cause delay with serious implications across the sectors and issues for which Defra is responsible, and could result in severe disruption to vital public services," she warned.

While insisting Defra did not want or expect a 'no deal' outcome from Brexit negotiations, she added it needed additional funding on six separate projects between now and June 2018 to ensure its preparedness "for all negotiation outcomes".

Defra would need some £7m to deliver a new national import control system for animals, animal products and high risk food and feed; and £5.8m on a new IT system to register and regulate chemical substances placed on the UK market.

It would also need £1.6m for a new licensing system for veterinary medicines; and £1m to develop a catch certificate system for UK fish and fish products being exported to the EU after Brexit, Moriarty said.

"We are implementing a major programme of work at pace in order to be ready for a range of scenarios including the possibility of a 'no deal' exit without a transition period," she said.

In replying, Gove noted "the residual uncertainties that will govern our plans to prepare for EU exit as negotiations with the European Commission proceed", and authorised the request for funds.

"You have indicated that a direction is necessary because there is a small proportion of Defra's readiness work that cannot wait until the EU (Withdrawal) Bill receives Royal Assent next year," he said.

"There is, however, an overriding need to press on with essential work on the areas listed in order that critical time is not lost in advance of EU exit in March 2019," he added.

Gove said he expected these and all other preparedness projects "to remain under continued scrutiny to ensure that they deliver value for money for the taxpayer while balancing the risk of taking no action".