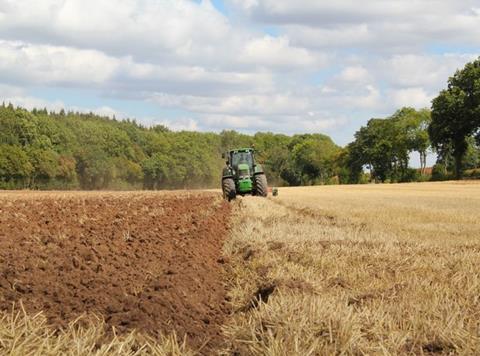 The government has been accused of a "betrayal" and of "severely undermining the British farming industry" after its updated no-deal Brexit tariff schedule failed to make any provision for the protection of key UK agricultural sectors.
Following "discussions with industry and consumer groups", an updated tariff regime published today by the Department for International Trade included three specific amendments to proposals first outlined by the government in March.
These included lower tariffs on HGVs entering the UK market, an adjustment to tariffs on bioethanol to retain support for UK producers, and tariffs on clothing products to protect access to the UK for developing countries.
DIT said the tariff schedule would apply for up to 12 months while a full consultation on a permanent approach to tariffs would be launched in January. It meant 88% of total imports to the UK by value would be eligible for tariff free access, with "lower prices in shops for consumers and the opportunity to source the best goods from around the world".
But despite extensive lobbying by the farming sector, the government's announcement also confirmed large parts of the agricultural industry would lose tariff protection in the event of a no-deal, the NFU warned.
This would leave key areas of the sector vulnerable to competition from a flood of imports "produced to lower standards that would be illegal for UK farmers", it added.
"I wrote to the prime minister only a few weeks ago to express our concerns with the approach the government took back in March to import tariffs in a no-deal scenario," said NFU president Minette Batters.
"But with the chances of us leaving in less than four weeks without a deal increasing by the day, the prime minister has missed a real opportunity to back British farmers."
In the event of a no-deal Brexit, farm businesses would now face new, high tariffs on much of the 60% of the UK's exports that go into the EU. Meanwhile, tariffs on goods coming into the UK would be set far lower and in many cases wouldn't be applied at all, Batters said.
"In particular, British egg farmers, British cereal farmers, our horticultural growers and many of our dairy farmers will have zero protection against cheap imports coming in from around the world," she added.
"While it is clearly important the government manages prices for consumers in a no-deal scenario, border tariffs have very little impact on retail food prices."
They could, however, have a "massive impact on the viability of farm businesses and our ability to produce high quality, great British food", she warned.
"I don't recall anyone selling a vision of post-Brexit Britain as one involving lower standard food filling shop shelves while British farmers go out of business."
Batters' comments were echoed by FDF policy manager Dominic Goudie, who said a no-deal Brexit "was not going to create a big win for consumers".
"The investment made right across the supply chain in preparing for a no-deal Brexit means prices will likely increase regardless of the government's tariff decision."
Today's announcement follows concerns the government has changed tack from earlier proclamations by former Defra secretary Michael Gove that the UK would not lower its food standards and would support the farming sector after Brexit.
It comes after revelations by Greenpeace's investigative journalism team Unearthed at the weekend that new trade secretary Liz Truss would push Defra to "accommodate" American requests to lower the UK's sanitary and phytosanitary standards post-Brexit.
While opening the door to a US trade deal, doing so would also severely limit the UK's ability to negotiate a post-Brexit trade deal with the EU, it warned.
Adopting such a "free market approach" to trading food post Brexit and accommodating US demands "risked watering down British food standards and creating a dangerous two-tier food system with the less well-off forced to accept lower standards", warned the British Poultry Council.