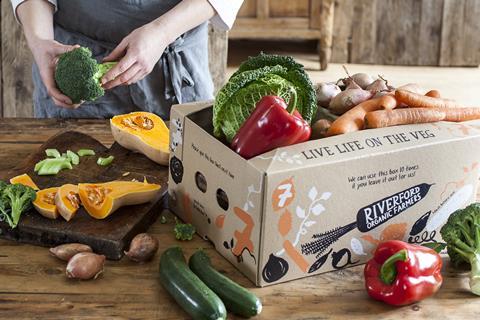 A no-deal Brexit leading to delays at ports could leave veg box supplier Riverford Organic unable to fulfil orders, the company has warned.

It said a scenario resulting in more than two weeks of customs disruption would see it struggle to "supply customers with appropriate vegetable boxes".

Long-term disruption would have a "serious impact" on the company's supply chain and could see it limiting flexible sales outside of its subscription service, it said.

Riverford made the warning in newly filed accounts, but told The Grocer it now believes it is "well positioned" for the UK to leave the EU without a deal and would expect supermarket shortages before it struggled with its own supply.

Approximately 30% of the supplier's produce comes from a network of producers in Spain, Italy and France. If transport was severely delayed, Riverford would supply boxes with fruit & veg from its British farms.

It had sufficient produce to cover veg boxes without EU produce for about two weeks, said MD Rob Haward.
"For a two which period of disruption which would include tariffs and us limiting some of our sales to make sure the veg boxes can go to our customers, the financial impact is really quite modest," he said. "It would get much more significant if it goes into three weeks and we would struggle to get a veg box out, but I really think that's immensely unlikely.
"If there was significant disruption and you can't get things in from Europe, we have enough product within our own farm, our cooperative of farms around here and other growers we work with, to fill our boxes through the first and second week after that.
"But if this goes on longer than a couple of days, supermarket shelves will become empty. I think the chance of this going on for two weeks is therefore nonsense- they won't let it go on that long.
"If we can't receive European produce we will use it as an opportunity to champion traditional British produce, with recipes and inspiration to help customers appreciate the home-grown roots and greens available at this time of year."
All of Riverford's European produce will also now be transported through the quieter Roscoff to Plymouth route to avoid disruption.
The Devon-based company would also be struck by "significant but not disastrous" tariffs in a no deal situation, which could cost around £600k based on current WTO rulings, the MD added.
Customers will be informed about disruption or changes vegetable box contents through its regular newsletter.
Concerns over Brexit come after it posted 7.5% sales growth to £60.9m and a decline in pre-tax profits to £55k, as it was impacted by unfavourable weather and the implementation of new IT systems, in the year to April 2018.
The current year has seen growth accelerate, rising to 10%, on the back of plant-based consumer trends, while profitability has also improved, said Haward.