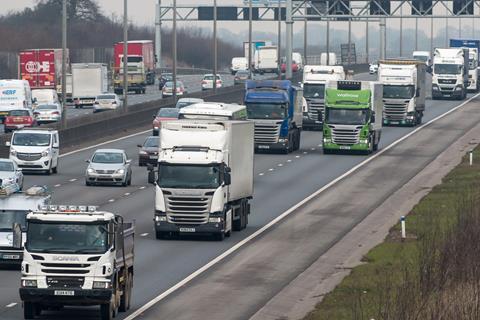 Business leaders have called for a judicial review of the government's no-deal Brexit planning, after a leaked report revealed ministers have been warned to expect major disruption to the food supply chain.

Yesterday The Sunday Times reported a document that forecast shortages of food, fuel and severe disruption at the ports. The newspaper said the report had been prepared this month by the Cabinet Office under the codename Operation Yellowhammer.

Although government figures including Michael Gove have tried to play down the significance of the report, industry bosses said it showed that the threat of a no-deal Brexit was even worse than had previously been predicted.

"The leaked report confirms what retailers have been saying since the referendum - that a no-deal Brexit poses a significant risk to the availability and cost of food, particularly fresh food," said BRC director of food and sustainability Andrew Opie.

"That risk is exacerbated at the end of October, when British produce is out of season and the UK is importing a significantly higher proportion of fresh food from the EU. Retailers will also be stocking up for the peak Christmas trading period, meaning warehouse space will already be at capacity.
"While there are plans to reduce disruption caused by checks in British ports, the government has no control over the new checks required at EU ports such as Calais. The best solution is to avoid leaving the EU without a deal, as government planning cannot remove the risk to supply chains."

"We recognise many of the issues raised in this leaked report," James Hookham, deputy CEO of the Freight Transport Association, told the Grocer. "But what surprised us was the magnitude. The government is clearly expecting the impact of a no-deal Brexit to be even worse than even we had expected and for the issue to be far more widespread."

The report says the government expects logjams caused by months of border disruption to affect the distribution of fuel, which Hookham said could affect far more than just food imported from the EU.

"Anyone who remembers the fuel shortages of 2000 will not need reminding of the potential impact that could have," he said. "We could be talking about a threat to domestic food supplies. We're talking about basic essentials.

He added: "The FTA is calling for a judicial review or some sort of independent assessment of exactly what the problems are we face. The threat of a no-deal appears to have risen dramatically and the industry desperately needs clarity over how it should be preparing."

FDF COO Tim Rycroft said: "Nothing in the leaked Yellowhammer document comes as a surprise to FDF. It accords with what we have been saying for more than two years. Some of these consequences may be mitigated by additional preparedness, but most of them cannot. That is why we continue to stress that leaving with no deal would be disastrous for UK food and drink."

Meanwhile, former Sainsbury's boss Justin King said today the report showed the food industry was facing a "major crisis".

The leaked document says government experts expects the worst disruption to food supplies to last for three months before improving to 'around 50 to 70%'.

King told the BBC's Today programme: "If 50-70% is what the government defines as success after three months then we're going to be in a major crisis.

"That measures major shortages of food coming in from the continent.

"Anything other than silky smooth at our borders and particularly Dover and Calais is going to have a significant impact on our food supply chain."

Former Defra secretary Gove, who was made responsible for no-deal preparations under PM Boris Johnson, said the report represented "absolutely the worst-case scenario" of what a no-deal Brexit could mean.

"Since it's been produced the government has taken significant additional steps to make sure we are prepared for 31 October, deal or no deal."