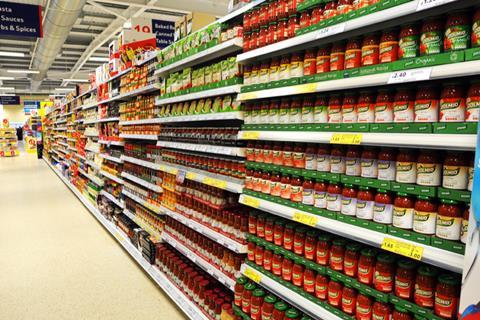 Supermarkets have strongly denied claims they have been "lowering standards" to prepare for the possibility of a no-deal Brexit.

A report by Kantar also suggested retailers had been "quietly delisting" products as part of a range of "extraordinary" measures amid fears of chaos in the supply chain.

But one supermarket source described the report as "absolutely nonsense".

He said: "It's compete rubbish to claim that supermarkets have been reducing standards because of Brexit. The idea that we would start delisting products and lowering standards and expect customers not to notice is ridiculous.

"It appears the people at Kantar may have been too busy listening to newspaper headlines."

Kantar's report also said shoppers were already showing "recessionary behaviours", such as those previously seen after the 2008 recession, with slowdowns in out-of-home eating and drinking growth, a plateauing of purchases of health food categories, more snacking and an increase in packed lunches, whilst more than 30% had started or were considering stockpiling.
"There is some evidence of shoppers being a bit cautious but to call this recessionary seems excessive," said the retail source.

"As for the claim that one in three are stockpiling, we know that some people are saying they are stockpiling but there is absolutely no evidence of them doing it."

He also said claims by Kantar that retailers were increasing the proportion of wonky fruit because of Brexit were untrue, adding: "We are doing it because that is what the customer wants. This has been a trend going on for years."

A source at another supermarket also accused Kantar of "overstepping the mark".

"There are several claims in this report which are just not backed up by the facts," he said.

"Kantar for example talks about range reviews as if they are part of planning for Brexit, yet these have nothing to do with Brexit but are about supermarkets making decisions about ranges that are best for our customers.

"To suggest that we would lower standards, whilst suggesting wonky fruit is a reaction to Brexit, ignores the fact that this is a response to customer concerns over food waste and is something that has been going on since before Brexit was on the horizon."

A third supermarket source added: "Our approach is always to protect our customers' best interests particularly when it comes to product quality, availability and value for money.

"Delists and range reviews are business as usual activity and will continue regardless of the outcome of Brexit."
Kantar compiled an analysis from 7,000 shoppers, alongside its shopper behaviour and retail insights data, which gives further credence to previous warnings from retail leaders about the threat of major food shortages.

Its findings were backed by BRC chief executive Helen Dickinson, who said: "This report underlines what we have been saying all along - that a no-deal Brexit is bad for businesses, bad for consumers and bad for the country."

However, the BRC disputed claims in the report that retailers were also making extra security preparations in case of riots and attacks on the food chain in the event of Brexit shortages.